Trading Options: Packaging Corporation of America (NYSE:PKG) : Covered Calls With Intelligence – CML News
This article was originally published on
this site
PREFACE
While covered calls are one of the most commonly used option strategies, it turns out we need to be clever in how we treat earnings in order to maximize the strategy in Packaging Corporation of America (NYSE:PKG) . Even further, if we don't do this analysis, we can easily dismiss some worthy covered call opportunities as losers. This is one of those cases.
STORY
There's a lot less 'luck' involved in successful option trading than many people realize and we're going to review that right now for PKG. Let's first examine a one-year back-test of a covered call strategy with some simple rules:
* Trade monthly options (roll the trade every 30-days).
* Avoid earnings
* Test this strategy for one-year
Here's how this quick set up looks in the back-tester: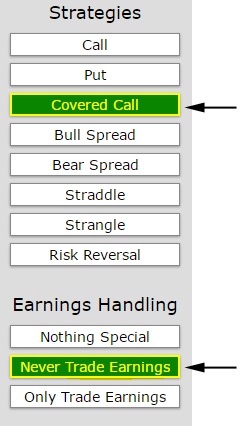 If we do this test, it turns out the best covered call to sell is out of the money with a delta of 25. Any delta below 50 is usually out of the money and certainly a 25 delta is out of the money.
RESULTS
If we do a covered call in Packaging Corporation of America (NYSE:PKG) over the last one-year but always skip earnings we get these results: