view original
post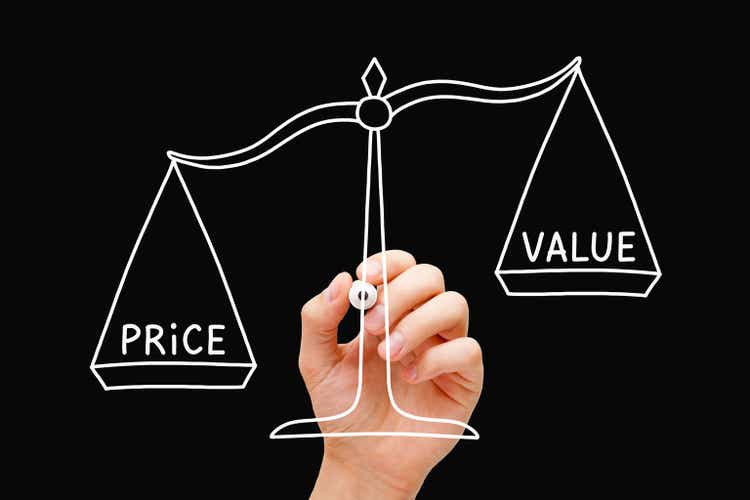 Introduction
I like to write about companies that lack coverage on SA and today I'm taking a look at 180 Degree Capital (NASDAQ:TURN). It's a small investment adviser and closed-end fund whose Q3 2022 portfolio included two companies which I've been covering regularly here – re-commerce retailer Envela Corporation (ELA) (latest article here) and apparel manufacturer Jerash Holdings (JRSH) (latest article here). I think 180 Degree Capital is significantly undervalued considering it's trading below the net value of its public portfolio. Let's review.
Overview of the business and financials
180 Degree Capital was founded in 1983 and was previously known as Harris & Harris Group. The latter was a BDC focused on venture capital investing in private companies. It was restructured and rebranded in 2016 when Kevin Rendino joined the portfolio management team.
180 Degree Capital currently specializes in investing in public companies with a market capitalization of below $500 million that it considers have good catalysts and are deeply undervalued. The aim is to find investments with turnaround potential that can generate attractive risk-adjusted returns in between one and three years and the fund also provides assistance through constructive activism.
The focus of 180 Degree Capital has been more and more on listed companies over the past few years and the private portfolio accounted for just 20.6% of the net asset value [NAV] as of September 2022. The main investment there is in biological crop protection products AgBiome, which raised $116 million in a Series D round in September 2021. The latter's flagship product is a microbe-based fungicide called Howler and which been gaining traction across Europe, the Middle East, and Asia over the past few years. The aim is to have a total of 11 products on the market by 2025 and I think this company has the potential to close a multi-billion IPO over the next years.
Turning out attention to the public company portfolio, there were a total of 16 names in there at the end of September 2022 and the total value of the portfolio was $65.8 million.
I like the focus on microcap companies as this has also been my area of investment over the past few years. Yet, you might've noticed that the value of the portfolio declined in Q3 2022, and I have to admit that the shareholder letter for the quarter is among the most hilarious pieces of literature I've read over the past few months. Here's how it starts off:
Fellow Shareholders,

Imagine waking up to the realization that you are set to fight Mike Tyson and have him punch you in the face for 6.5 straight hours. Now imagine that happens every morning.

Wait a second. I just realized this was how I started last quarter's shareholder letter. Would anyone notice if I just copied and pasted last quarter's note and applied it to this quarter?
Overall, the public company portfolio performance since Rendino joined the management team has been mixed due to significant drawdowns during bear markets. In my view, the reason behind this underperformance during tough times is the focus on cyclical industries as those typically account for about 90% of the portfolio.
Yet, I think that the challenging markets and the underwhelming performance of 180 Degree Capital over the past few quarters have created a compelling investment opportunity. You see, my calculations are showing that the valuation of the public portfolio has increased slightly since the end of September (assuming, of course, that the positions have remained unchanged). The public portfolio should have a total value of almost $68 million based on data from January 13 (green for increased value, red for decreased value).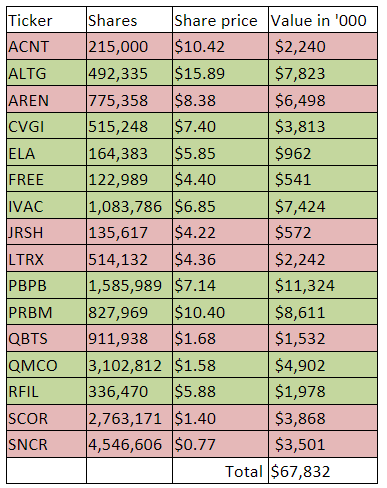 The NAV per share based on the public company portfolio alone comes at about $6.54, which is over 17% above the $5.57 per share market price as of the time of writing. Considering 180 Degree Capital had about $1.7 million in cash as of September while the private portfolio holdings were valued at $17.5 million, we get to a NAV of about $8.39 per share. Historically, 180 Degree Capital has often been trading at a discount to NAV of about 25% and this is where I think lies the investment opportunity as this translates to about $6.29 per share.
Turning our attention to the risks for the bull case, I think there are two major ones. First, it's possible that the share price could trade at a discount to the NAV of below 75% to the NAV for a prolonged period of time. Second, many of the companies in the public portfolio are thinly traded microcaps which means there's something significant share price volatility. It's not uncommon for the valuations of these companies to change by more than 20% in a single day.
Investor takeaway
I find the shareholder letters of 180 Degree Capital amusing but more importantly, the performance of its public company portfolio should be positive in Q4 2022. The fund is trading at a significant discount to its NAV, which I expect to close a bit over the coming months.
Overall, I rate 180 Degree Capital as a speculative buy considering the share prices of many of the portfolio companies are volatile and it's possible that the discount to NAV could remain high for a while.