view original
post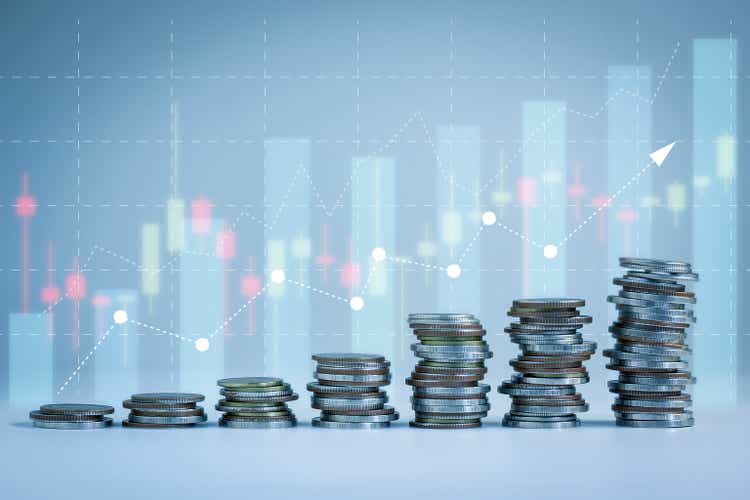 Medical Properties Trust, Inc. (NYSE:MPW) has been a battleground, as shareholders went along for a long downhill ride as shares fell from $23.77 on 1/18/22 to around $10.22 on 10/21/22. Since then, a bottom looks to have formed over the next several months, and shares have grinded higher past $13.
The current share price is far from what shareholders became accustomed to in 2020 and 2021, as the current share price reflects 2017 and 2018 levels. MPW is not the same company it was, and with the news leading into earnings, I don't believe MPW deserves to trade at a depressed valuation. MPW went ex-dividend on 12/7/22, and there has been no indication from management that a dividend cut or reduction is on the table.
After reading through the recent news about Steward Health Care Pipeline Health, I am confident that shares will continue to grind higher in 2023 without a reduction to the dividend. The recent news releases should set the stage for a strong earnings call from management and could get analysts excited again, just as Joshua Dennerlein from Bank of America (BAC) was after the Q3 call, when he upgraded MPW from neutral to buy.
MPW in 2017 compared to the current Trailing Twelve Months (TTM).

Above is a chart going back to 2005. The bottom line represents the low that was established in October of 2022, and the top line represents the current share price. Even during the pandemic crash of 2020, Medical Properties Trust, Inc. didn't reach the lows that it did in October of 2022. This is a valuation that hasn't been seen since 2016. As far as the current share price, this is a valuation that MPW hasn't traded at since the middle of 2018. MPW is a much different company today then in both of these periods, but Mr. Market isn't valuing MPW as the company it is today.
The last time MPW reached lows around the $10 level was in 2016. In the fiscal year of 2016, MPW generated $541.1 million in revenue and generated $373.7 million in operating income, and $253.5 million in funds from operation (FFO). In the TTM, MPW has generated $1.61 billion in revenue, $949.7 million in operating income, and $1.07 billion in FFO. Since 2016, revenue has increased by $1.07 billion (197.95%), operating income by $576 million (154.13%), and FFO by $811.9 million (320.28%). Regardless of the headlines, it's perplexing that MPW reached the levels it did back in 2016 when the financials were completely different.
2018 was the last time MPW traded at its current levels, and the financial snapshot is similar to what I just outlined since 2016. In 2018, MPW generated $798.7 million in revenue, $575.4 million in operating income, and $485.3 million in FFO. Over the past 4 years, MPW has increased its revenue by $813.5 million (101.85%), its operating income by $374.3 million (65.05%), and its FFO by $580.1 million (119.53%).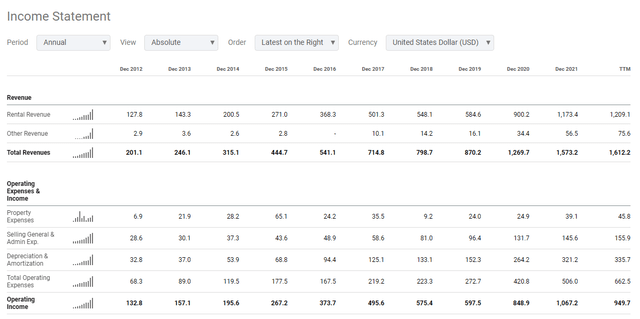 In addition to the financials improving across the board on the income statement, Medical Properties Trust, Inc.'s balance sheet has improved. Since the close of 2019, shareholders have seen total equity on the books increase by 93.67% from $4.56 billion to $8.83 billion (+$4.27 billion). This has also driven its tangible book value higher. Since 2018, MPW's tangible book value has increased by 20.13% to $14.74 from $12.27, an increase of $2.47 per share.
Today, Medical Properties Trust, Inc. shares trade at a -9.5% discount to their tangible book value. This is rare, as most companies, especially REITs, trade for a premium to their tangible book value. Omega Healthcare Investors (OHI) trades at a 114.83% premium to its tangible book value, while Healthcare Realty Trust (HR) trades at a 22.38% premium to its tangible book value.
Excluding the headlines, from a number's perspective, it's hard to agree with Mr. Market's sentiment regarding MPW. This is a company that has grown across the board regarding its income statement while improving its total equity drastically. While MPW took on total debt to fuel its growth, YoY, MPW has repaid $1.9 billion of total debt$1.9 billion of total debt, which amounted to 16.69% of its 2021 total debt level.
MPW has an attractive valuation compared to its peers
I used Seeking Alpha's peer group as the base for this analysis. I am comparing MPW to:
When I compare REITs, I look at the price to FFO I am paying and how a REIT trades compared to its respective peers. MPW is still trading at a discounted valuation, as its price to FFO is 7.37x compared to its peer group average of 11.29x. As there hasn't been an impact to MPW's FFO, it looks undervalued when compared against others REITs in the healthcare space.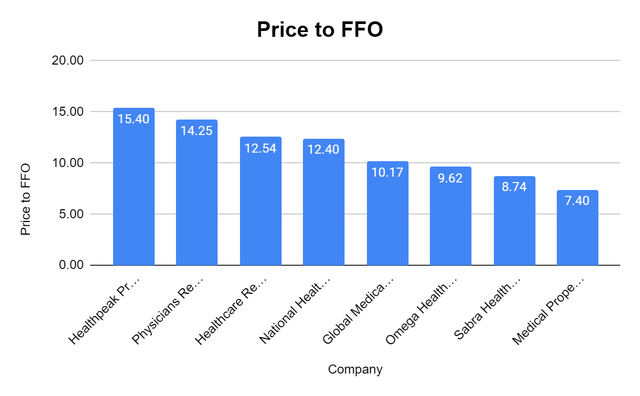 MPW has $9.48 billion of total debt, and I am using this figure as the adjustments have not gone into effect. MPW's 7.3x EBITDA to total debt ratio is just under the peer group average of 7.98x. Compared to two of its peers with double-digit levels of EBITDA to total debt, MPW looks to be in good shape.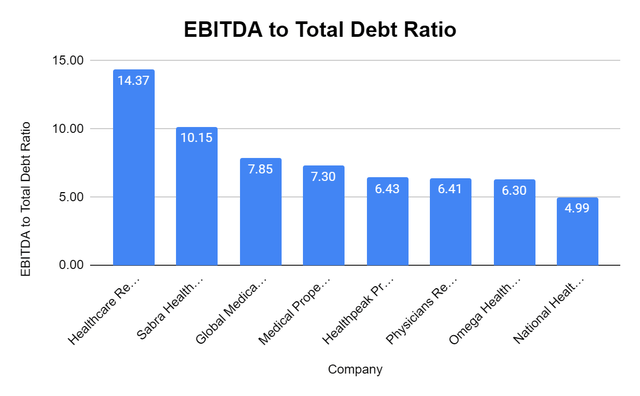 Shares of MPW are trading at a level where its yield is above the group average of 7.41%. MPW has a dividend yield of 8.68% and the largest FFO coverage ratio at 156.03% compared to a peer group average of 127.39%. MPW has not provided any indication that the FFO will be impacted, and if this stays true then there would be limited reasons for management to consider a dividend cut.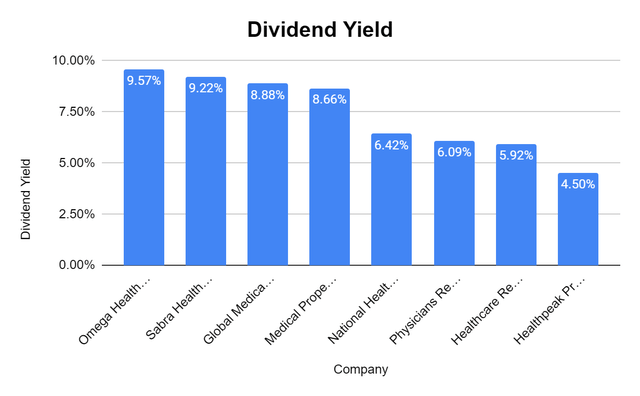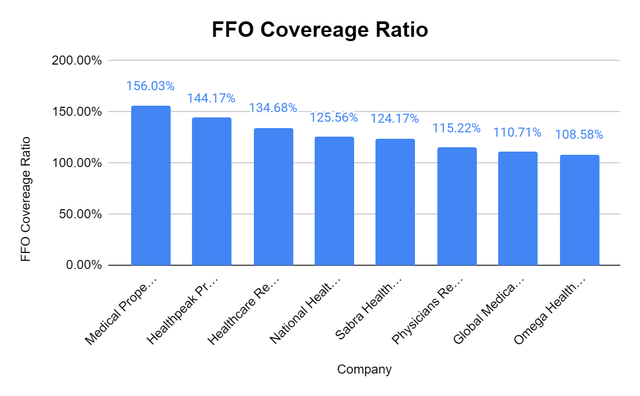 There are only two companies within the peer group that trade at a discount to tangible book value, MPW and SBRA. The peer group trades at an average premium of 52.22% compared to the tangible book value found on their balance sheets. MPW is trading at the largest discount at -9.29%.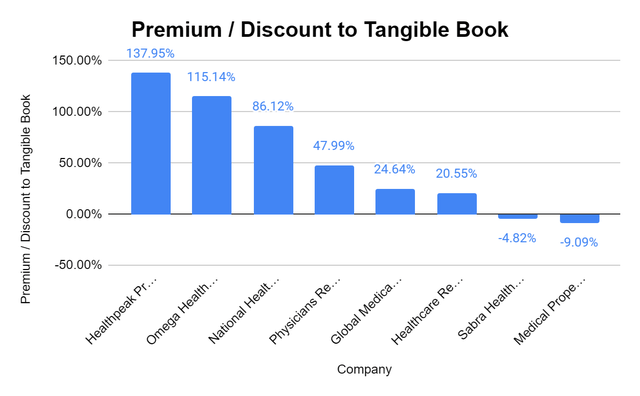 After comparing MPW to its peer group, none of the metrics I look at seem concerning. MPW trades at a discount to its tangible book value, has a dividend yield that is well covered by FFO, and yields over 8%. Its debt ratio is in line with its peers, and I am currently paying under the peer group average for MPWs FFO. MPW looks undervalued compared to the valuations its peers trade at.
The recent news releases should put some of the fears to rest
Steward Health Care has been a sore spot for MPW, but on 12/22, favorable news was announced. Steward Health Care, MPW's largest hospital tenant, completed the extension of its credit deal with its lenders through December 2023. Stewards CEO, Ralph de la Torre stated that "The extension of our ABL coupled with our re-engineered structure position us extraordinarily well for the coming year." The extension alleviates pressure from a funding standpoint, and this should provide favorable commentary on the upcoming Q4 earnings call for MPW.
On 1/13/23, MPW issued a press release that stated Pipeline Health would assume the existing terms of its Los Angeles Hospital master lease. Four LA area hospitals and 2 medical office buildings were approved as part of Pipelines reorganization confirmation. Pipeline sold its Illinois hospitals in December of 2022 and is focusing its resources on the post-bankruptcy business plan on opportunities within the LA area. Specifically to MPW, on the effective date of the plan from Pipeline, MPW will be paid all rent that accrued through the first half of January 2023. MPW agreed to defer roughly $5.6 million or 30% of the 2023 cash rent Pipeline was obligated to pay into 2024, but this isn't a free deferral. Pipeline will make good on the $5.6 million in 2024 with interest.
I outlined the news from Q3 in my previous article on MPW, which can be read below:
Prior to earnings, MPW had announced it would be selling 3 Connecticut hospitals to Prospect Medical Holdings and 11 of its facilities to Prime Healthcare. As part of the transaction with Prime Healthcare, MPW was repaid $30 million in financing. In early September, MPW sold 9 general acute hospitals and 2 related medical office buildings to Prime for net proceeds of $360 million. On October 6th, MPW announced that it would sell 3 Connecticut hospitals to Prospect Medical Holdings. The agreement establishes an aggregate sale price of $457 million. These sales were expected to reduce short-term debt in Q3 and has sourced over $1 billion in immediate liquidity.

In the new press release from MPW Edward Aldaq, MPW's Chairman and CEO, stated that performance at MPW's facilities improved during Q2 and Q3 and is a testament to the resilience of well-underwritten hospitals. MPW has sourced approximately $1.8 billion in cash from capital recycling transactions year-to-date throughout its deal-making, the partnership transaction with Macquaire Asset Management, and the proceeds from loan repayments. MPW is also expected to receive more than $650 million in proceeds in 2023 from other agreements which are currently binding.
Conclusion
I am looking forward to Q4 earnings from Medical Properties Trust, Inc., and the commentary on the conference call. The short-term issues have overshadowed MPWs financials and its valuation compared to its peers. Medical Properties Trust, Inc. just paid its recent dividend at full freight, and if there was any danger to the dividend, I would suspect that management would have alluded to this on the Q3 conference call prior to the recent arrangements being solidified.
I think Medical Properties Trust, Inc. is undervalued and that the news from Q3 and recent press releases set the stage for a strong upcoming earnings call. As long as there isn't a negative event that occurs that makes me reevaluate the investment thesis, Medical Properties Trust, Inc. looks as if it trades at a very attractive valuation.