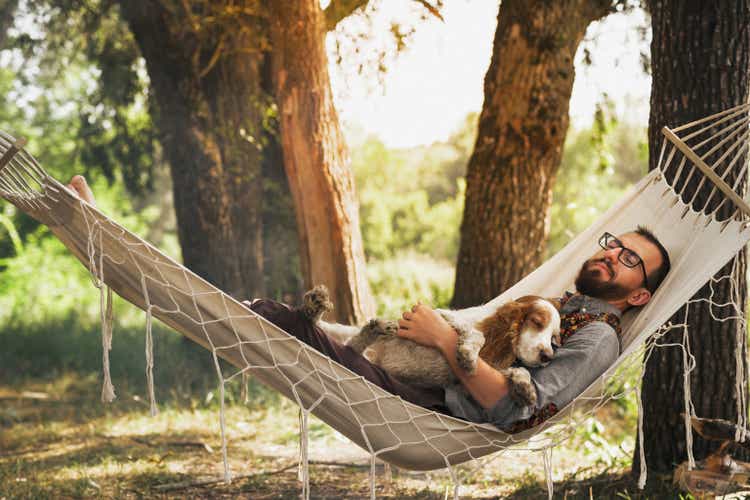 Co-produced with "Hidden Opportunities."
Warren Buffett is arguably the greatest investor of all time. He has compounded his money at such a high rate that he's now the seventh-richest person, with a net worth of nearly $100 billion. And he made all of it just by investing diligently. Mr. Buffett has consistently focused on the long term and never shied away from the markets when the near-term economic outlook was gloomy.
Through his years of investing experience, Mr. Buffett has been a wealth of wisdom for generations ahead. His advice on the importance of passive income is precious and should be a motto for anyone who wants to achieve some form of financial independence.
If you don't find a way to make money while you sleep, you will work until you die – Warren Buffett.
Passive income is the only way you can become financially independent. There are several ways to generate passive income. You could list that spare room on Airbnb (ABNB) or rent your car on Turo. You could write a book or develop an online course. But most of these methods involve skills, efforts, and/or expenses to set up and operate. It also becomes a concentration of income sources, making it vulnerable to several external factors outside your control.
A well-diversified dividend portfolio is one of the most powerful and dependable passive income sources. With a well-defined dividend income stream flowing in, you no longer have to delay your retirement or hang on to an unrewarding job. We have two picks with up to ~8% yields to get you on track for financial independence.
Pick #1: MO – Yield 8.3%
Altria Group, Inc. (MO) is one company with incredible staying power. The origins of MO can be traced back to 1902, and the industry has faced several headwinds. Public health advisors, medical professionals, regulators, and the general society has been frowning upon this product category since the sixties.
In the mid-1960s, the following series of warnings were made mandatory on cigarette packets. 60+ years later, the habit continues to be highly relevant in modern society.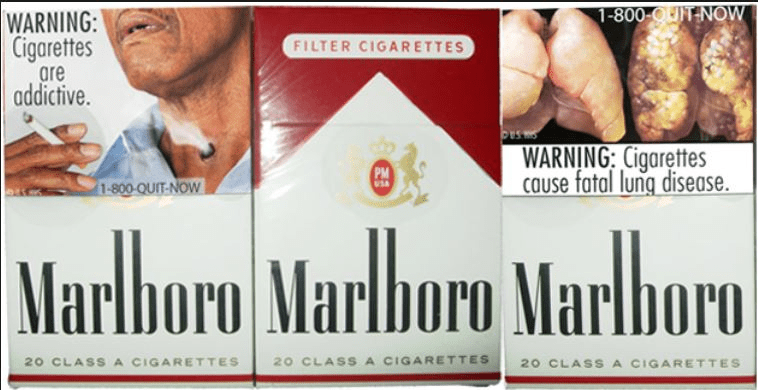 I am not a marketing or health expert, but if this isn't dissuading consumers from the habit, we have an incredibly sticky business. And this is what makes tobacco a "bulletproof" investment. The Sage of Omaha's wise words remain relevant in modern society.
I'll tell you why I like the cigarette business. It costs a penny to make. Sell it for a dollar. It's addictive. And there's fantastic brand loyalty. – Warren Buffett in 1987
Over the past decade, traditional smoking may have declined, but Big Tobacco companies are innovating to stay more relevant than ever with products that appeal to the modern generation. E-cigarettes, heated tobacco, and vapor products are growing in popularity, and projections show that the profits from these new categories will surpass those of combustible cigarettes soon.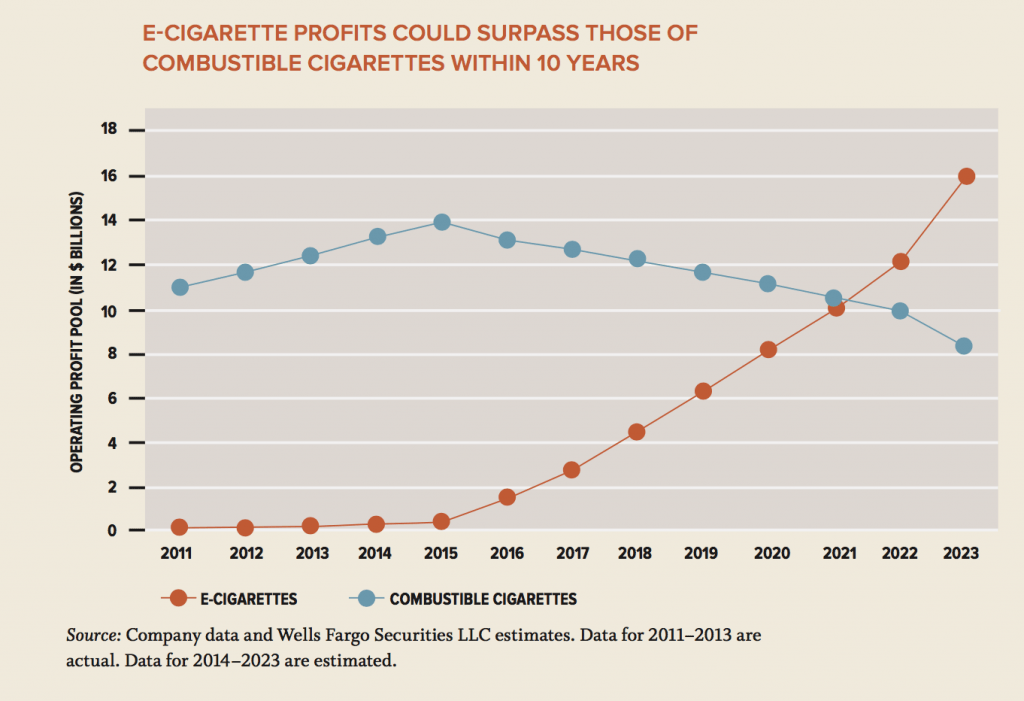 MO has not only survived regulations and social stigma, but the company has also thrived while rewarding shareholders. The company has proved itself to be an exceptional dividend king by raising its dividend annually for 53 consecutive years. MO's current annual dividend stands at $3.76, an impressive 8.3% yield!
This dividend is adequately covered by the company's FY22 EPS guidance between $4.81-4.89 (a 4.5-6% YoY growth), placing the payout ratio at 78%. MO targets an 80% adjusted EPS-based dividend payout ratio for the near term, and this tells us that the current dividend is sustainable with room for modest annual raises.
Considering the scrutiny and stigma around traditional smoking, it makes sense why investors and Wall Street seem to shy away from the tobacco industry. However, MO continues to evolve and diversify its portfolio away from traditional cigarettes in meaningful ways.
MO's portfolio of non-combustible products is growing, and the company continues exploring options to build an FDA-authorized portfolio of e-vapor products that will help smokers transition away from cigarettes and are growingly acceptable to modern society. They have strong financial means to pursue these opportunities.
MO maintains a strong balance sheet with a debt-to-EBITDA of 2.1x. According to the Q3 conference call, MO had $375 million remaining (out of $3.5 billion) towards share repurchases, and management communicated that they planned to complete it by the end of 2022. In Q3, the company also reported having retired $1.1 billion in outstanding debt. In summary, MO returned more to shareholders in 2022 through share repurchases and dividends. Source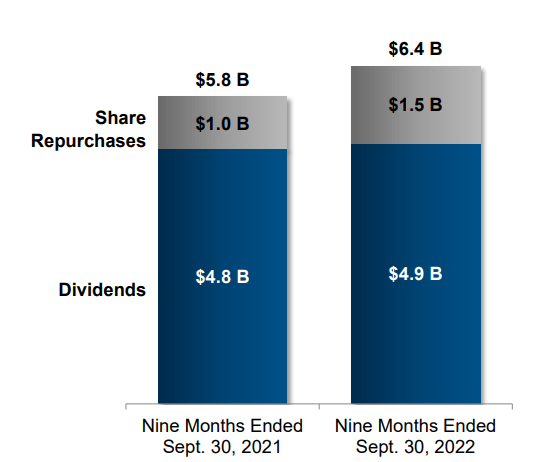 This is the characteristic of a recession-resistant business. Stock prices may move up and down, but the fundamentals of such companies remain robust. There are many more growing future dividends for Altria shareholders, and current discounted prices make this recession-resistant business an excellent bear market bargain.
Altria will report its 2022 4th Quarter earnings on February 1st.
Pick #2: VZ – Yield 6.4%
We live in a highly digital world where data is the lifeblood and telecom companies provide the lifelines. There are more Internet users than ever before, and in 2022, Americans gobbled up over half a Terabyte of data on average. (Source: VZ January 2023.)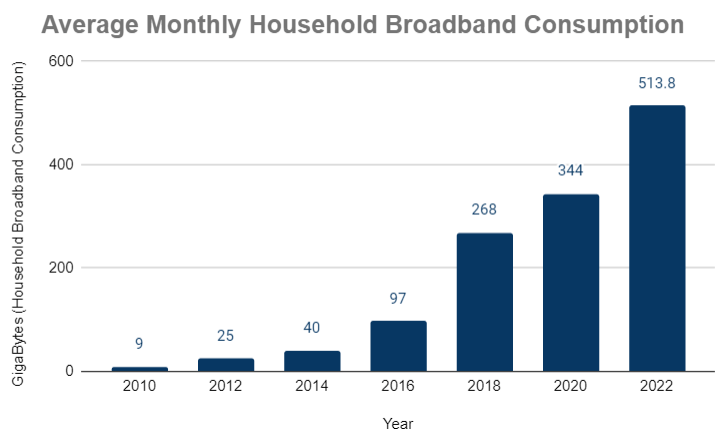 Do you recognize this Apple (AAPL) website from 1997?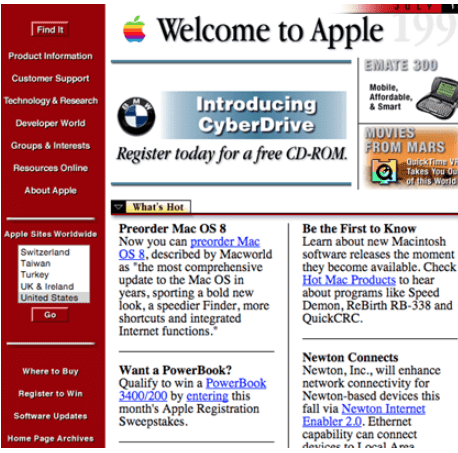 In 2023, websites and web services are worlds apart from the 1990s, with significant emphasis on data-hungry aesthetics, visuals, graphics, and whatnot. This shift is irreversible, and with the onset of the digital revolution, we will be consuming more data from now on.
We will now discuss Verizon Communications Inc. (VZ), a leader in the American telecom industry and a solid dividend steward. In 2022, VZ delivered its 16th consecutive yearly dividend increase, and its current $0.6525/share quarterly payment calculates to a healthy 6.4% annualized yield.
VZ has consistently maintained the highest profit margins among the major U.S. telecom players. While VZ's service comes at a higher price than the competition, consumers pay the price for its network reliability.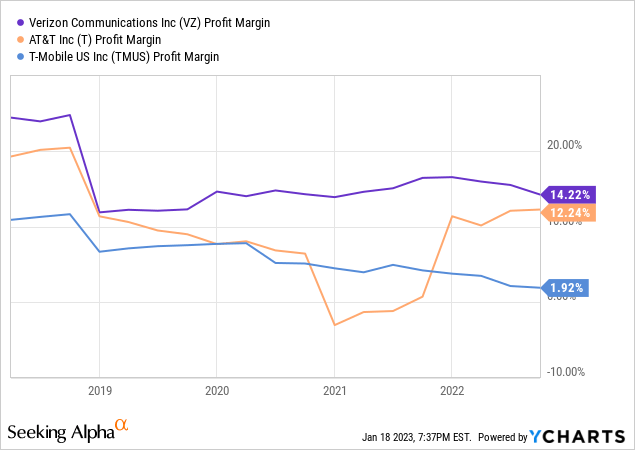 According to RootMetrics' recent report, Verizon was the winner in the category of 5G reliability for the third straight 6-month period. This is one of the reasons for the company's strong pricing power.
VZ also made significant progress with 5G expansion, with improved 5G availability in more cities. CEO Hans Vestberg mentioned in an interview that 2022 was the peak year for investments. He added that with the majority of the CAPEX completed, the company is well-positioned to reap the rewards in 2023.
VZ provided FY 2022 guidance of 8.5-9.5% wireless service revenue growth and EPS between $5.1-5.25. This puts its dividend at an attractive 50% payout ratio.
Management reiterated their commitment to dividend growth and indicated that bringing debt down to pre-5G levels is a priority. VZ already maintains a healthy A- rated balance sheet with unsecured debt to adjusted EBITDA of 2.7x. With intense CAPEX in the rearview mirror, VZ is ready to reap the rewards of its 5G and fiber investments. Its low dividend payout ratio is a notable advantage and value proposition. The company can support dividend raises despite economic challenges.
VZ trades at an 8.3x forward P/E, making it a bargain at current price levels. Use this market fear to buy 6.4% yields from America's most reliable 5G network.
Conclusion
As I share my views on dividends and income investing, one question comes up a lot. Am I too young to be investing in dividend stocks? The reality is that you are never too young to set up passive streams of income. The earlier you begin, the more bulletproof your income stream and the less sensitive you become to volatile markets.
Warren Buffett, a self-made billionaire who invested his fortune in successful companies, is expected to have collected over $6 billion in dividend income in 2022 despite the bear market. Notably, he has owned the stocks that pay the most significant portion of his dividends for decades, and the stock price movement isn't something he will lose sleep over.
Wealthy individuals have multiple sources of income. They have music royalties, books, commercials, and brands that churn cash like clockwork with little to no ongoing efforts. A 2018 CNBC Article says that 65% of millionaires have three sources of income, 45% have four sources of income, and 29% have five or more income streams. The key to staying wealthy is reducing the vulnerability of your income to economic pressures – the more sources, the merrier.
Warren Buffett has consistently advocated for having multiple sources of income. This is the key to securing your financial future in this world with little to no job security.
Never depend on a single income. Make investment to create a second source. – Warren Buffett.
We have two discounted picks to expand your sources of passive income instantly. With up to ~8% yields, these will make your money work as hard as you do and help secure your financial future.