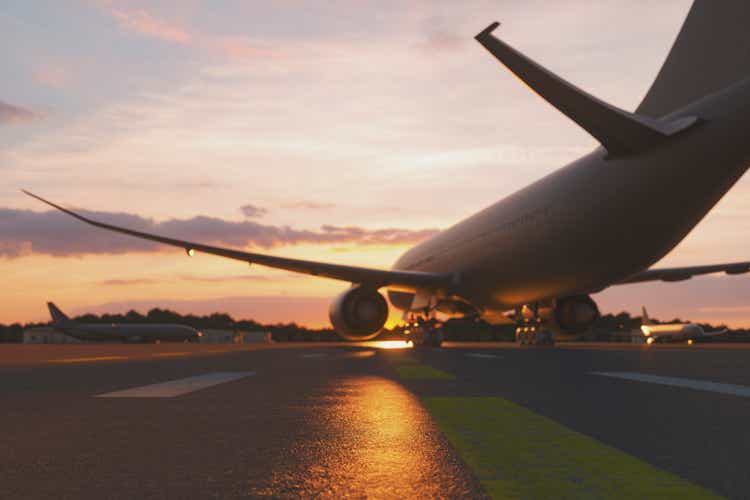 Brazil stocks were a big winner during the first few months of last year. Recently, though, the iShares MSCI Brazil ETF (EWZ) has underperformed the broader iShares MSCI Emerging Markets ETF (EEM) as China and other Asia economies appear to be on the mend.
One Brazil name features a better chart with robust earnings prospects, however. Is there more runway for Embraer (NYSE:ERJ) after a big ascent to jump-start 2023? Let's climb aboard and check out ERJ.
Brazil Underperforming Emerging Markets
According to Bank of America Global Research, Embraer has become one of the largest aircraft manufacturers in the world. It is engaged in the designing, manufacturing, selling, and supporting activities that cater to the needs of three major segments, namely, commercial aviation, defense and security, and executive aviation. It has offices, subsidiaries, and customer service bases in China, France, Portugal, Singapore, and United States.
The Brazil-based $2.4 billion market cap Aerospace and Defense industry company within the Industrial sector trades at a high 163.3 trailing 12-month GAAP price-to-earnings ratio and does not pay a dividend, according to The Wall Street Journal.
There was bullish news in January when the firm confirmed it landed a new order for 15 aircraft, totaling $1.2 billion (half the market cap). That came after a revenue miss in its November report, but adjusted EPS verified above BofA's outlook, leading to a free cash flow forecast increase. Challenges at Boeing and Airbus could prove to be a windfall for a firm like Embraer as demand for aircraft improves.
On valuation, analysts at BofA see earnings having turned into the black in its FY 2022. EPS acceleration is expected this year with further gains through 2024. The Bloomberg estimate consensus is much more upbeat about Embraer's profit outlook. If we apply $2 of earnings with a below-market 10 earnings multiple, that suggests shares are very undervalued – by perhaps 40% as a ballpark estimate.
If the share price holds steady, then both the firm's GAAP and operating earnings multiples will be in the single digits over the coming quarters and the EV/EBITDA ratio will be below market too. What's particularly appealing to me is ERJ's impressive free cash flow generation. Trading at just 3x FCF, shares are cheap.
Embraer: Earnings, Valuation, Free Cash Flow Forecasts
Looking ahead, corporate event data provided by Wall Street Horizon show an unconfirmed Q4 2022 earnings date of Friday, March 10. Before that, Embraer's management team is expected to present at the Credit Suisse 2023 Latin America Investment Conference 2022 this week. Also on the calendar is a February 7 interim sales data update that could move the stock. Finally, a shareholder meeting is slated for April 28. All of these events are volatility catalysts that traders should keep on their radars.
Corporate Event Risk Calendar
The Technical Take
With an impressive 3 out of 61 quant ranking by Seeking Alpha, I too see bullish features with ERJ. Notice in the chart below that shares recently broke out from a downtrend that dated back to the end of 2021. After peaking near its pre-pandemic highs, the stock plunged to under $8 during the middle of last year. Following a bounce, bears emerged at the falling 200-day moving average as Embraer consolidated.
A big bullish move happened earlier this year when the stock rallied from near $10 to above $13 in short order. I see support near $11.50 while resistance is in the $18 to $20 range. I would not be surprised to see the stock challenge that range over the coming months given the rounded-bottom pattern. There's now ample volume by price under $12 that should provide cushion on a downside retreat.
ERJ: Bullish Rounded Bottom, Trendline Breakout
The Bottom Line
I like the earnings growth outlook for ERJ as well as constructive technical features. With EPS improving this year and a low valuation, I see the stock as a buy.