Apple stock trades lower in Tuesday premarket.
Fed interest rate announcement on Wednesday is holding back markets.
NASDAQ is trading lower for second session in a row.
AAPL stock may sell off to $116 if market turns.
Apple (AAPL) stock is once again selling off in Tuesday's premarket. After losing 2%, slightly more than the NASDAQ, on Monday, AAPL stock is again trading lower than the index it dominates. Apple shares are off -0.7% early Tuesday, while the NASDAQ futures are trading -0.4% lower. With Federal Reserve Chair Jerome Powell on track to deliver an interest rate announcement on Wednesday afternoon, markets are understandably sheepish at the moment.
Apple stock news: Analysts pessimistic over iPhone shipments
CEO Tim Cook's Apple is expected to report $1.95 in GAAP earnings per share (EPS) on $121.7 billion in revenue for the fourth quarter this Thursday. A large majority of analysts, however, have lowered their EPS estimates for the quarter. With lots of blame to go around, reduced global demand for smarthphones is at the top of the list.
IDC, a market intelligence firm based in Massachusetts, reported last week that global shipments of smartphones dropped more than 18% YoY in Q4. This is the largest quarterly drop-off ever, according to IDC's information. 2022 saw smartphone shipments drop 11% to the lowest annual level since 2013. 
Apple's preliminary data shows that the consumer electronics giant saw iPhone shipments drop 15% YoY to 72.3 million in the fourth quarter. The silver lining, however, is that the same data points to Apple growing worldwide market share from 23% to 24%.
Wells Fargo got in on the action on Monday by cutting 2023 and 2024 EPS estimates from $6.56 and $7.77, respectively, to $5.81 and $6.50. That is more than -11% and -16% if you are keeping track.
"Overall demand push-out vs. weakening consumer demand […] leave us with an incrementally cautious stance through 2023," wrote Wells Fargo analyst Aaron Rakers. The analyst added a surprising estimate that iPhone sales would drop -7% YoY to 216 million units.
Analyst Wamsi Mohan at Bank of America concluded that Apple may experience continued demand weakness for iPhones in the first half of 2023. Mohan cut his full-year EPS estimate from $5.82 to $5.73.
Apple stock forecast
Apple stock was in a bear market for all of last year. With January's 12% gain through last Friday, it appeared AAPL might finally be ready to break out of this downtrend. However, the bearish voices have come on strong at the end of the month, and it is quite possible that Friday was the end of the year's first rally.
This would make sense as Apple's price last Friday was broadly in line with the area of resistance that has pushed AAPL stock down since August 17. A glance at the Relative Strength Index (RSI) on the daily chart below shows that Apple stock hit a reading of 68 on Friday, just two points shy of a proper overbought reading. In the past this region has largely succeeded in leading to a pronounced sell-off in Apple's share price. 
A poor showing at the Q4 earnings call on Thursday may lead AAPL stock to break below the 9-day moving average, presently at $140.75. That would be the time to sell most likely. A break there would probably send Apple stock stock back down to at least $125 in search of support. This is where the stock found its footing back on January 3, 4 and 5. However, my own reading of the macro picture leads me to think that Apple's share price could easily break through even $125 and continue the pattern of lower lows seen between November and January.
The next best area of support sits between $116 and $120. This range is where the stock consolidated in early 2021, and the bottom of that range would mean a -19% fall from Monday's close. If Apple beats earnings on Thursday, expect AAPL stock to break above $150, thus spelling the end of this long bear market.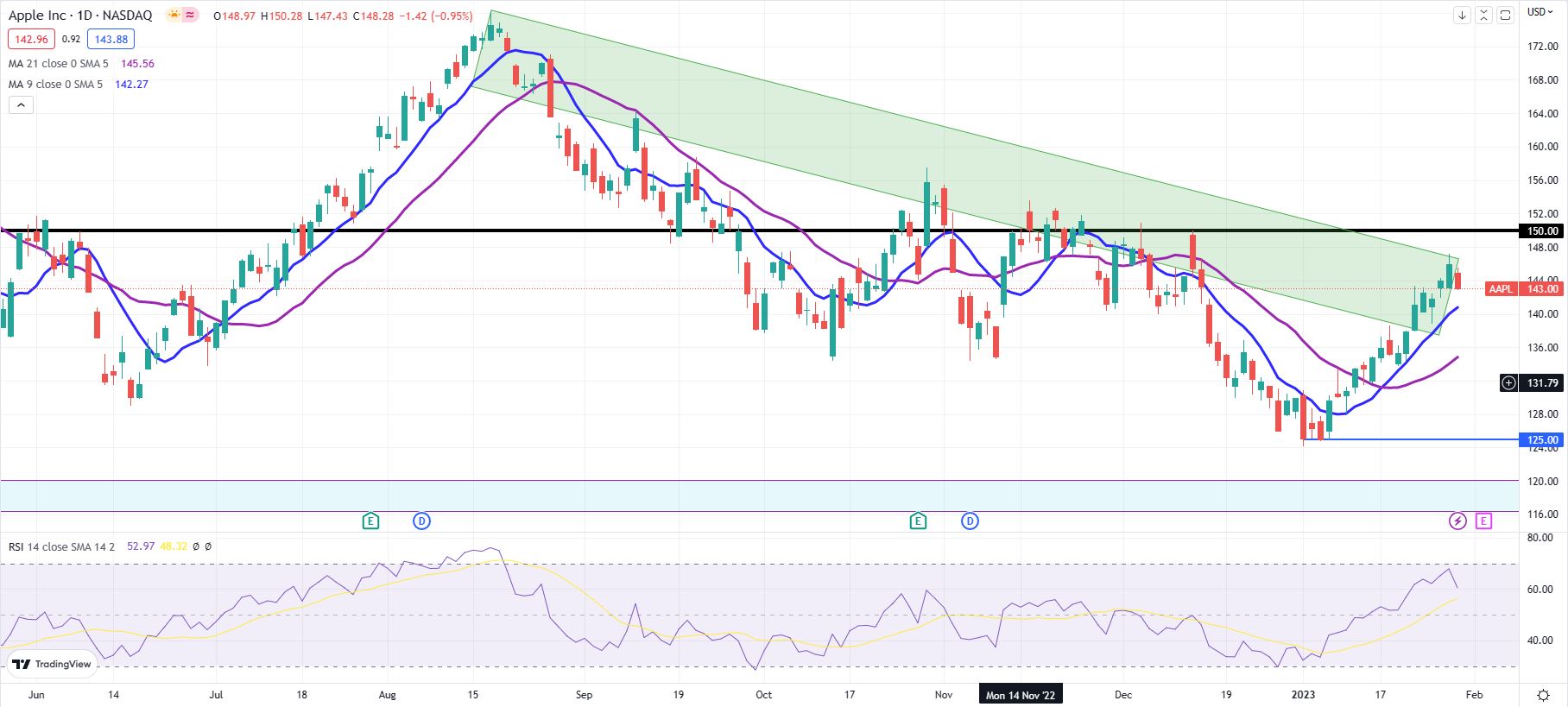 AAPL daily chart