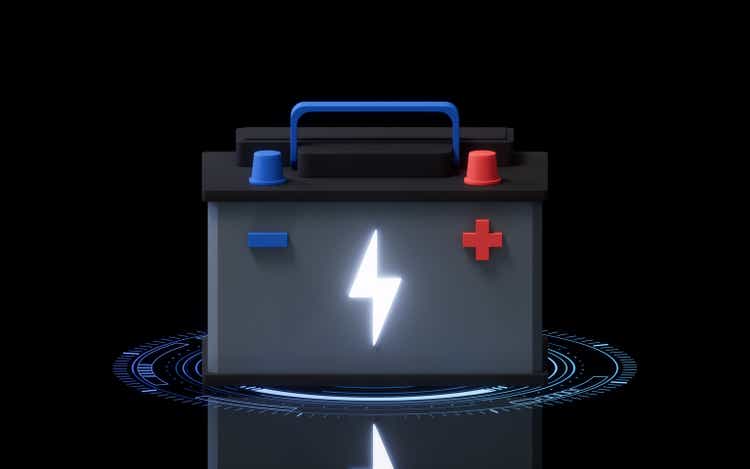 Investment Thesis
Sociedad Química y Minera de Chile (NYSE:SQM) is cheaply valued. What's more, the business is highly profitable. While I do discuss SQM's valuation here, I suggest that investors think beyond this matter.
I'm not going to declare that SQM's prospects are all smooth sailing because they are not, there are near-term headwinds that we must consider.
But by thinking broader I believe investors will recognize the compelling investment opportunity on the horizon.
The Problem & The Opportunity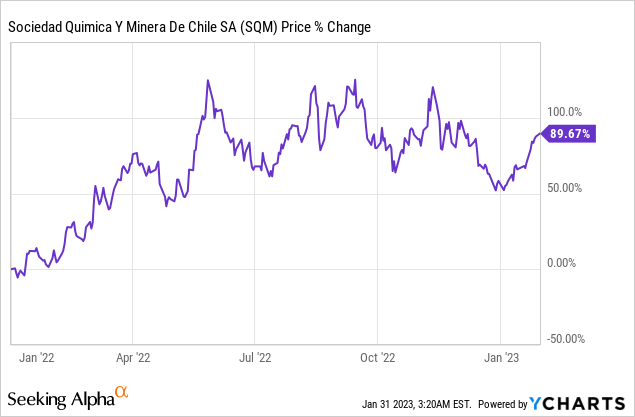 If you are reading this I'm confident you know that the bulk of SQM's outperformance in early 2022 came from the market given SQM's lithium business the benefit of the doubt.
This coincided with an overwhelming change in investor sentiment towards the lithium sector as investors came to accept that there was going to be a massive amount of growth in EVs sales.
Moreover, the bulk of EVs sales, at least in the near term were expected to come from China. This saw lithium prices skyrocket, as supply couldn't possibly match the expected demand.
So, everything should be rosy and SQM's share price should be going up. So why has SQM's share price been "stuck" rangebound for more than 6 months?
And the reason is that there was a change in the underlying expectation in demand. Case in point, from 2020 to 2022, sales jumped 3x. But for 2023, sales are only expected to increase by around 40%.
With this context in mind, of rapid acceleration in EVs in the past couple of years combined with a slowdown in EV sales expected, let's dig further into SQM's prospects.
Revenue Growth Rates Sizzle, Too Much?
Along these lines, it probably sounds counterintuitive but could SQM be growing too fast growth? As a point in fact, Q3 2022 saw SQM's revenues increase by 347% y/y.
And this may sound perplexing. Why would SQM's growing too fast be a problem? Because investors likely can't figure out what its sustainable growth rate is going forward.
The business went from 10% CAGR to declining revenue growth rates in 2019-2020 to growing revenues by more than triple digits.
From an investor's perspective, how does one even project this sort of growth rate over the next 2-3 years? Do we expect around 20% CAGR? Or 50% CAGR? Or perhaps, even worse, things could turn negative y/y, before picking back up.
In sum, the combination of China's EV adoption subsidies being taken away from consumers will lead to a slowdown in Chinese EV sales in 2023, plus the fact that this growth is quite literally all over the place, makes it challenging for investors to back SQM with confidence.
With all these arguments in mind, let's discuss SQM's valuation.
SQM Stock Valuation — 5x 2023 FCF
I believe that SQM will report about $4.5 billion in free cash flow in 2022.
As a headline figure, that's great. The problem here is that with cost inflation running through lithium mining operations at somewhere close to 15% in 2023, this implies that unless SQM can grow its business by at least 25% CAGR, that would mean that SQM's free cash flow would not have meaningfully grown in 2023.
On the other hand, I according to my estimates, SQM is priced at around 5x free cash flow. So, yes, there are some near-term headwinds weighing down its near-term prospects. But at a projected 5x 2023 FCF, if one fundamentally buys into the lithium story, this means that investors only need 5 more years of current rate cash flows and after this the business trades for free.
Separately, consider the chart that follows.
What you see here is that analysts are upwards revising SQM's revenue estimates. It doesn't matter what the ultimate figures for SQM end up being. What matters more is that analysts are directionally expecting SQM's revenue to go up in the near term. When analysts are positioned alongside you, that's often a positive setup.
Investing is not about certainty. Any serious investor knows that there are never any guarantees. But having the right odds on one's side, while not paying a significant premium to free cash flow.
The Bottom Line
The one-line summary is this, SQM is a profitable lithium business that's cheaply valued with secular tailwinds.
The more nuanced discussion is this. I believe that there's a global energy transition underway. That our need to build out our global energy infrastructure and energy storage capacity is underway.
Investors that seek to participate in the global energy transition will do well in the next 1-2 years, to a large extent irrespective of the underlying global economy.
This is contrary to what many investors realize. The reason for this is there's a demand-driven need for the modernization of our energy transition. And right now, investors are not willing to pay up for SQM (and other lithium stocks), because they believe that SQM's prospects are cyclical and about to fade.
However, after reading this, I suspect you'll now think otherwise.