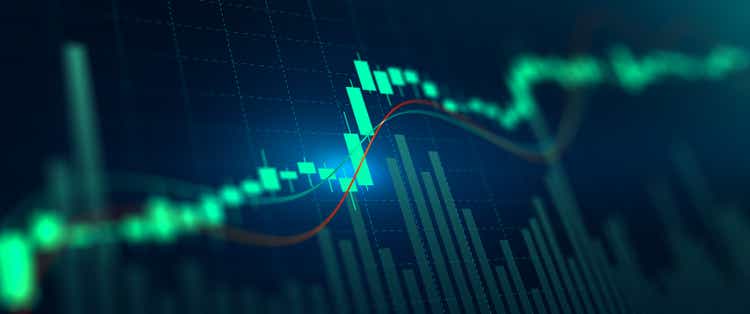 Stocks have wrapped up January with some surprises as the benchmark S&P 500 (SP500) finished the month with a gain of 6.2%. An even bigger advance was seen at the tech-heavy Nasdaq Composite (COMP.IND), which closed the month up 11% to mark its best start to the year since January 2001. While trades favored growth-oriented sectors, the Dow Jones Industrial Average (DJI) was also in the green, ending the month with an advance of 2.8%.
As goes January, so goes the year? The S&P 500's rally means that stocks hit the so-called "January Indicator Trifecta" this year, which gives the blue-chip index close to if not a 100% historical probability of rising strongly for 2023 as a whole, according to Jeff Hirsch of the Stock Trader's Almanac. He also told Seeking Alpha that the S&P 500 should rise 15%-20% for 2023 as a whole., calling the current environment "super-bullish."
It's a big turnaround from 2022, when soaring inflation and an aggressive Federal Reserve dented market sentiment. Attitudes are changing, however, and the central bank is likely to take its foot further off the accelerator at today's FOMC meeting. Traders widely expect the pace of rate hikes to slow to 25 basis points, from a 50 bps increase in December, and which followed four back-to-back 75 bps hikes. Check out the latest Wall Street Breakfast survey to discover what the SA community thinks will come next.
The clear leaders of the S&P 500 Index in January have been sectors like Consumer Discretionary, Communication Services, Real Estate, Information Technology and Materials, though individual players have stood out (especially when compared to their 2022 performance). Here is a look at the top 10 best-performing stocks:
YTD returns: Tesla (NASDAQ:TSLA) +60.2%, Warner Bros. Discovery (NASDAQ:WBD) +55.4%, Western Digital (NASDAQ:WDC) +39.9%, Nvidia (NASDAQ:NVDA) +36.5% and Carnival Corp. (NYSE:CCL) +35.8%.

Other winners: Paramount Global (NASDAQ:PARA) +35.7%, SVB Financial (NASDAQ:SIVB) +35.3%, Royal Caribbean Cruises (NYSE:RCL) +33.3%, Expedia (NASDAQ:EXPE) +30.4% and MarketAxess (NASDAQ:MKTX) +27.7%.

Additional technical analysis? Check out SA's charting features. Also discover an AI-driven ETF that doubled the return of the S&P 500 in January.