The cryptocurrency market has been around for over a decade, but it has already proven to bring excellent opportunities and huge returns for investors. Still, many people find it difficult to start and make their first crypto investment. If you are still thinking about how to get into the market and build a successful career, you are in the right place. 
In this guide, we will introduce the 8 best ways to get into the cryptocurrency market in 2023. The methods shared in our guide will help you understand how you can start trading, build a reasonable crypto portfolio, make a profit investing in crypto presales, etc. We will also discuss one of the leading cryptocurrency exchanges that provide a number of tools for beginners and several other opportunities. 
8 Best Ways to Get Into Crypto in 2023
In the list below, we have enumerated the best methods you can use to get to cryptocurrency trading. You can combine some of them to have better practice, for example, you can learn the basics of the cryptocurrency market and build a crypto portfolio investing in multiple presale projects. 
Find High-Rewarding Crypto Presale Projects
Open a Crypto Trading Account with a Reputable Cryptocurrency Exchange 
Learn the Basics of the Cryptocurrency Market
Open a Digital Wallet and Learn How to Store Your Digital Assets
Develop a Trading Strategy
Build a Diversified Cryptocurrency Portfolio
Make a Passive Income By Staking Crypto Coins
Invest in Crypto Stocks and ETFs 
Reviewing Each of the Best Ways to Get into Cryptocurrency
However profitable the cryptocurrency market may seem, it is twice as much risky. Along with several popular and well-established assets, there are thousands of speculative coins created for the hype. Not only is it crucial to understand what you are buying and selling but also when and how you are buying and selling it. To help you start your crypto trading career successfully, below we have discussed in detail some of the best tips to get into the crypto market. 
Find High Rewarding Crypto Presale Projects
Beginner level crypto investors may find it difficult to enter the cryptocurrency market because most of the well-known cryptocurrencies are trading at high prices. Bitcoin is traded above $22,000, and ETH is worth more than $1,500 at the time of writing. So the top coins are quite expensive, and they can't buy them in high amounts. 
But the crypto market is not all about the high-cap cryptocurrencies, and you can even get started with the crypto projects that have not been launched officially. These crypto projects hold presales of their native tokens at a low price before they get listed on crypto exchanges. In this way, they raise capital for project development, marketing, and other purposes. 
It is an excellent opportunity for the investors too, as long as they get the chance to invest in them during the early stages of their development, paying below $1. This can be hundreds of times lower compared to their listing price. Plus, the project can get popular and attract huge attention, which can lead to increasing the demand for the token. 
However attractive crypto presales may sound, you need to be careful when selecting a presale project to buy. The important thing is to explore whether it has a real-world solution or an interesting feature to offer which can be worth investing in – otherwise known as 'utility'. If you are unsure what presales can be promising, below, you will find two of the most popular crypto presales to buy in 2023. 
Fight Out – Move-to-Earn App that will Help to Enhance Physical Health
Fight Out is a decentralized platform that helps people to track their workouts, improve their physical health, increase their avatar's stats, and earn rewards with their progress. The project will launch its move-to-earn app, where users can subscribe and get a special training routine. As one of the pioneers of similar metaverse projects, Fight Out aims to revolutionize the way people move and earn in the metaverse.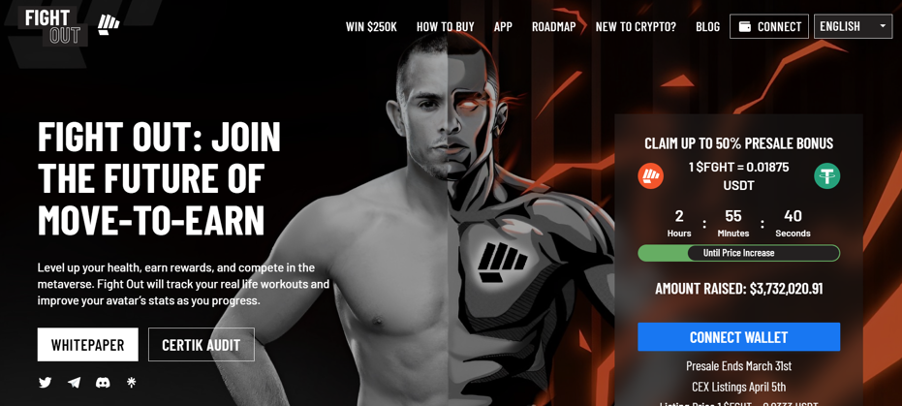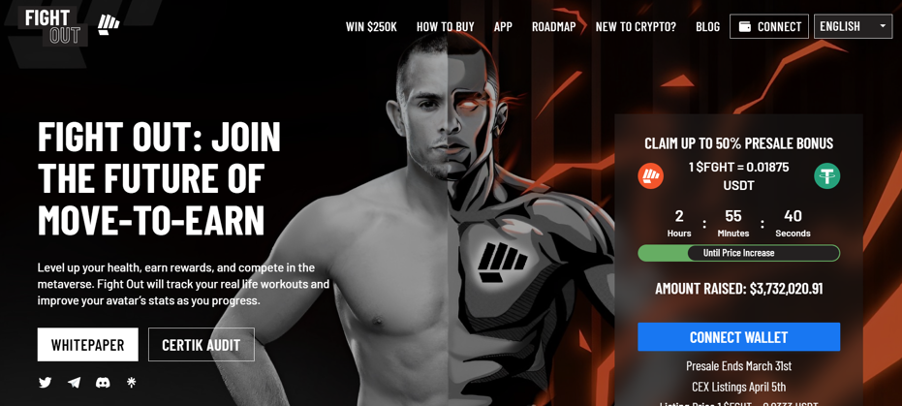 Its native token FGHT is currently in the presale, where you can purchase the token for as low as 0.0185 USDT at the time of writing. However, the price will increase with each stage of the presale, and the listing price of the token is expected to be $0.0333. The team has already managed to raise a capital of over $3.5 million, but there are still two months before the presale ends. The coin is expected to land on centralized exchanges on April 5th. 
The project app is planned to launch in the second quarter too. After that, users can buy a monthly subscription to the Fight  Out app, enabling them to create their soulbond avatar. The avatar will be the face of a user within Fight Out's metaverse. They can use it to socialize and get in touch with other users and fight against them to earn rewards. 
Also, a special plan of workout will be prescribed to each avatar based on the condition of their physical health. The workout plans will be created by Fight Out team members who are professional trainers and have experience in that field. Once the avatar gets the workout plan, users can start with their real-life workouts, which the app will track. 
By completing each exercise or series of exercises, users will raise their stats and get rewards for it through the REPS token. REPS is the in-app currency of Fight Out. It can be used to buy in-game items, such as power-ups or cosmetics for your avatar. REPS can also be exchanged with the FGHT token which means that you convert your earnings within the game to real value.
See our guide on how to buy Fight Out tokens or click the link below to take part in the presale.
RobotEra – Metaverse Token with Play-to-Earn Features
RobotEra is another exciting metaverse project with P2E features that you can buy right now at its lowest price. Its native token TARO is still in the first stage of its presale, where it is priced at $0.020. But the value of TARO will increase to $0.025 once the second stage starts. TARO is an ERC-20 token, as the project is built on the Ethereum blockchain. It introduces a decentralized metaverse game where the players are robot avatars.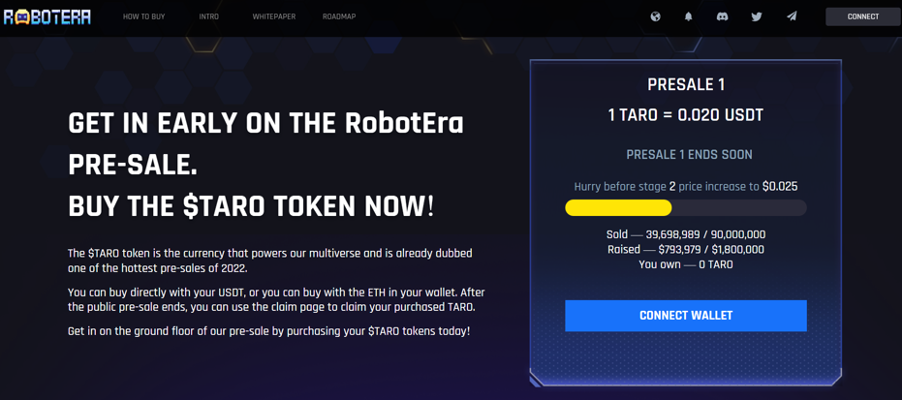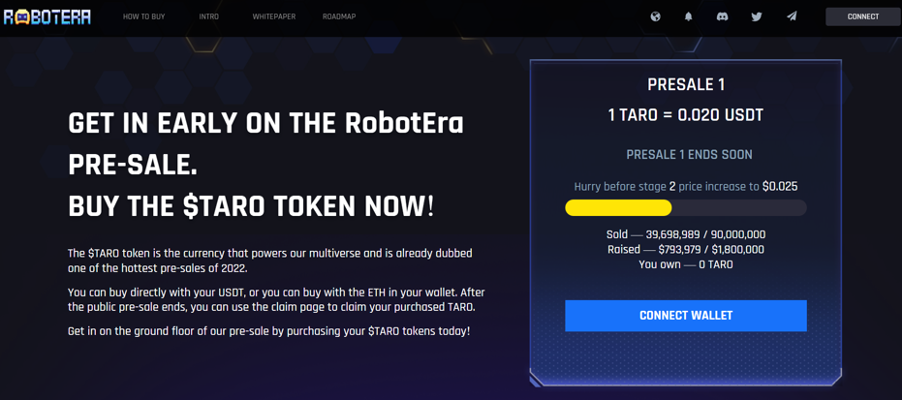 Once you enter the RobotEra's metaverse, you need to mint your robot-avatar, which will be your face within the metaverse. Your avatar will take part in the creation of a new world that, according to the game's plot, is ruled by robots. The latter took over the planet after a war against the humans who created them. There are several features and activities your robot can enjoy within the metaverse. 
Robot players can buy plots of land and construct assets on their land. They can also mint robot companions to help them in the process. There is a special city which is filled with different leisure places. So, robots can visit there and browse the museums, parks, concert halls, etc. Quizzes and competitions are also a part of the game, so your robots can take part in them and win rewards in the form of TARO tokens. 
As the native token of RobotEra's universe, TARO is also used for utility purposes. So, your robot avatars can buy in-game items, such as accessories for them, and pay in TARO tokens. All the in-game items are represented as NFTs, so you can create different assets in the form of NFTs, exhibit them in museums or trade them to get rewards. 
Another method of making money with TARO tokens is to use them for staking. To buy TARO tokens, you must visit its website and link your digital wallet to the platform. TARO is available to buy with ETH and USDT tokens.
See our full guide on how to buy RobotEra token.
Open a Crypto Trading Account with a Reputable Cryptocurrency Exchange
Apart from investing in the crypto presales, you can diversify your portfolio with newly listed coins or the old ones which you believe can be profitable. But before that, you will need to create an account with a crypto broker through which you can buy and sell the coins. Finding a suitable crypto broker may be a hard choice for you as there are hundreds of options in the market. How can you understand which broker to choose? Here are some factors to consider.
Security systems and reliability,

Trading fees,

Withdrawal and deposit fees/other account fees,

Payment methods,

Number of tokens supported,

Customer support service.
The first thing to pay attention to is whether your broker is trustworthy and can guarantee your safety. To meet this requirement, the broker must be regulated and possess strong security mechanisms to protect your account. For example, eToro is among the most heavily-regulated brokers, and it is registered with 4 tier- authorities. Other than that, eToro uses 2-factor authentication and other account protection mechanisms to keep the fraudsters away from your account. 
Crypto Exchanges charge trading fees for their services which can be of different types – buy/sell bids, transaction fees, etc. When choosing a broker, explore its pricing structure and select the one with rather competitive fees. Also, pay attention if there are no hidden fees that may be included in the price of the cryptocurrency. 
Other than the trading fees, brokers charge account-related fees, including withdrawal/deposit fees, management fees, inactivity fees, subscription fees, etc. Make sure that the fees charged by your broker are reasonable and that you can afford them. Another thing to pay attention to is how you will deposit or withdraw money from your account. Check the payment systems supported by your broker to understand if any of these methods are available for you. 
Finally, you need to pay attention to the opportunities that you will get as a trader from your broker. One of the main things is to check the number of cryptocurrencies supported by your broker. You must ensure that the popular and leading cryptos are listed or that the broker keeps adding new ones to its list. This is also crucial in terms of portfolio diversification. 
Once you select the broker you want to trade with, go on to its website to create an account. This process usually takes a couple of minutes with the leading crypto exchanges. The next step is to verify your account by providing proof of your identity and address. When you have a verified account, you can finally deposit funds on it or link your bank card to start trading. 
Learn the Basics of the Cryptocurrency Market
It has been more than a decade since cryptocurrencies have been around. This and the fact that any central authority does not regulate them makes them the most volatile assets and the riskiest investment. Due to their volatility, they can bring you high rewards, but the risks are higher too. Hence, it is important to have at least a basic understanding of the crypto market before getting started. 
If you are completely new to crypto trading, start learning the fundamental terms related to the field. These can be low-cap, high-cap, and mid-cap cryptocurrency concepts, staking, NFTs, digital wallets and their types, different types of coins such as memecoins, speculative assets, coins with P2E elements, cryptocurrency exchanges, etc. 
It is also essential to get a basic understanding of the trading market and learn about bear and bull markets, simple charts, crypto signals, etc. The next thing to pay attention to is crypto regulations. Though cryptocurrencies rely on a decentralized blockchain, some governments take action to regulate the limits of trading digital assets, etc. Many countries also charge taxes on crypto earnings, so make sure you learn about them beforehand.
Open a Digital Wallet and Learn How to Store Your Digital Assets
When you invest in cryptocurrencies, it is also crucial to know where you will keep them. Your exchange wallet is an option, however, when it comes to safety, digital wallets are the best to choose from. Besides, when you purchase crypto in its presale stage, you can't transfer it to your exchange account as long as it is not yet listed on the exchange. Instead, you need to have a digital wallet, link it to the cryptocurrency's website and get the coins on your digital wallet. 
Cryptocurrency wallets can come in two kinds – software and hardware. In both cases, you will get two types of keys for your wallet – public and private keys. The public keys can be shared with everyone, and it is usually the address of your wallet. You must provide your public key to send or receive cryptocurrencies. Private keys are created automatically. 
Private key acts like the password to your digital wallet. Unlike the public key, you need to keep your private key confidential and not share it with anyone. It is actually the way to access your digital wallet, so be careful not to lose them. Apart from your private key, you also create a 12-digit code which is also called seed which will help you to recover your private key in case you forget it. 
As mentioned already, crypto wallets fall into two large groups – hardware or physical ones and software wallets, which are also known as hot-storage wallets. The latter are apps that can be downloaded or installed on your device. They are more practical if you will trade often and make transactions every week or every day. 
If you don't trade quite often and prefer long-term investments, hardware wallets could be a better option. A hardware wallet is a physical device that stands out with excellent security. They can be connected to your device to make the transaction though they are not as convenient for frequent buying and selling. However, if you have made a huge investment and intend to keep it for a long time, a hardware wallet is the best choice. 
Develop a Trading Strategy
It is also recommended to have a plan about how you will trade and develop a trading strategy based on your time, money, and some other factors. Generally, trading strategies can be of two kinds – short-term and long-term trading.
Long-term trading or investment

happens when you buy an asset and hold it for a relatively long period. The investment span can differ starting from a couple of weeks to months and years.

This type of investment is also known as HODLing in the crypto industry. When you make a long-term investment, you believe that the value of the cryptocurrency will increase over time and don't sell it no matter what happens with the market.
Short-term trading

is when you buy and sell cryptocurrencies in a short time. As cryptocurrencies are quite volatile, most traders use this method to make money. There are different types of short-term strategies. Day trading is among the most popular ones, during which traders buy and sell assets within the same trading day. Traders also can buy and sell assets within minutes, hours, etc. 
For example, you can buy a huge amount of Bitcoin and wait for a year or so till its price increases significantly. Then you sell it to gain your profit, and in this case, you make a long-term investment. However, if you find a crypto asset is extremely volatile, and you buy it intending to sell after a few days to make a profit, you make a short-term investment. 
You can face some challenges when developing a trading strategy as a beginner. To get started, first, you will need to have a basic understanding of how the market works. There are many crypto tools and indicators that seasoned traders use to understand how the market will move. So, they create a trading strategy based on those indicators, which makes short-term trading quite risky. 
Build a Diversified Cryptocurrency Portfolio
When it comes to cryptocurrency trading, risk management is among the first things you need to take into account. And one of the ways to handle risks when investing in crypto is to build a diversified crypto portfolio. To put it simply, you don't put all your money in a single crypto project but allocate them between multiple assets. 
In this way, you manage the risks of losing all your money when the only cryptocurrency you invested in crashes. But when you invest in multiple assets, you will not lose all your money, even if one or two assets lose their value. Diversification is even more important in the cryptocurrency market, as these assets are highly volatile compared to stocks, forex, etc. 
When diversifying your crypto portfolio, it is usually recommended to consider investing not only in well-established cryptos but also in newly emerging ones. See our latest rundown of the best new crypto projects.
Obviously, you will need to do some research to build a wisely diversified portfolio and more clearly understand which tokens to choose. However, you can use eToro's crypto portfolio tools for creating your diversified portfolio. The exchange also has a special tool called CopyPortfolios which will enable you to mirror any other trader's portfolio with a click of a button and without spending your time on the research process.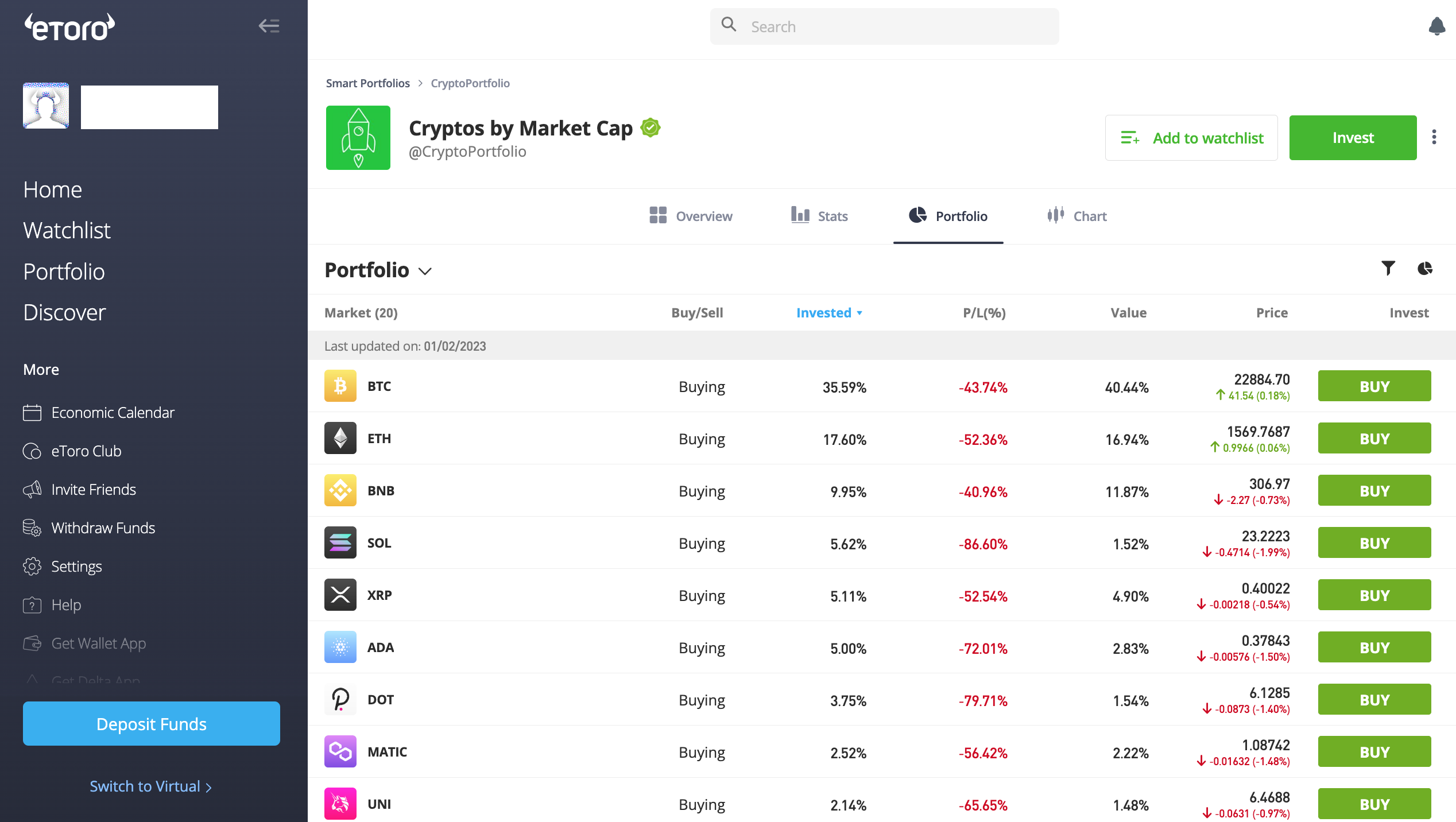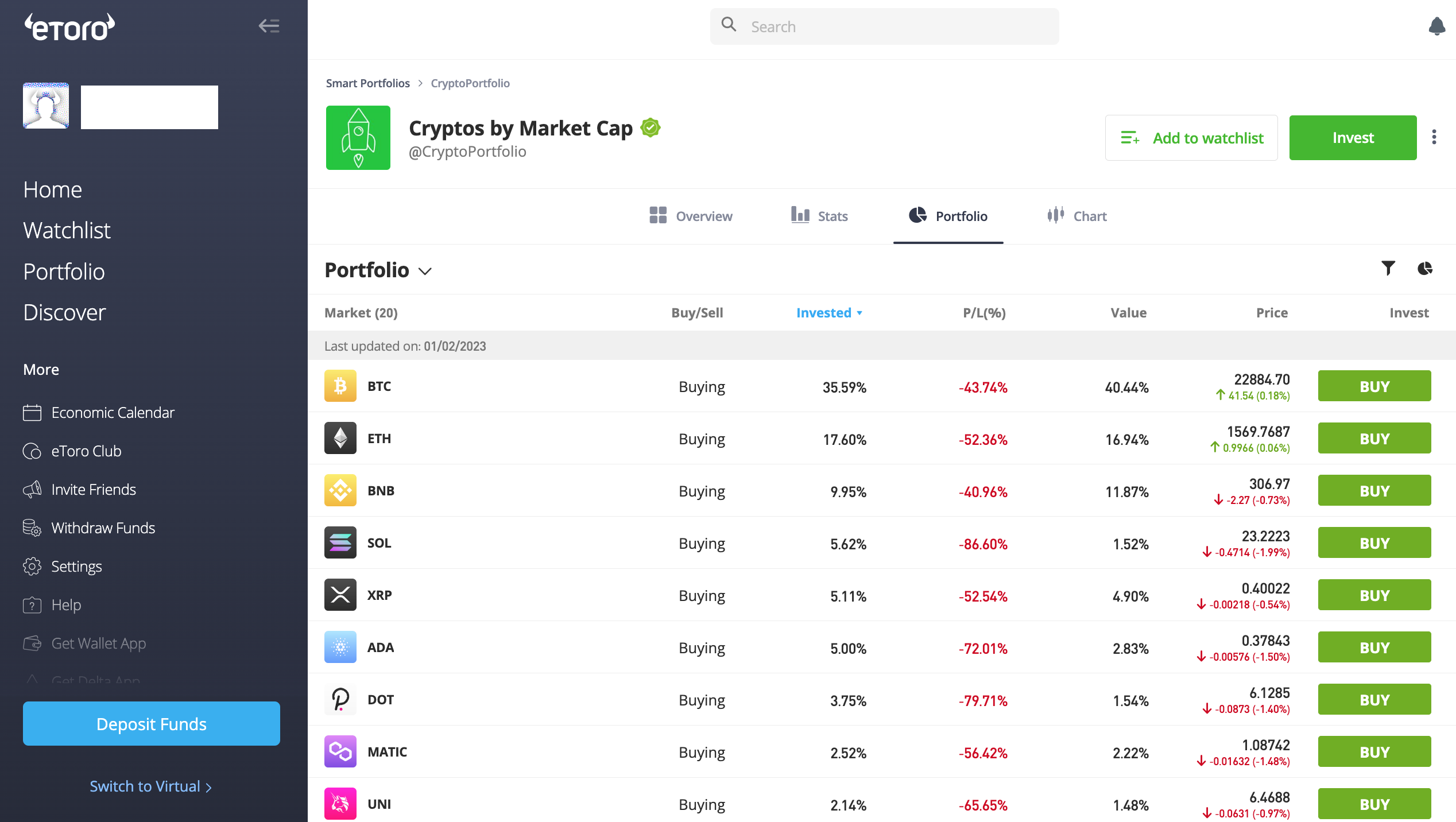 In a nutshell, eToro's crypto portfolio enables you to invest in many cryptocurrencies by purchasing this asset only. When purchasing this portfolio, you essentially invest 35% of the sum of your investment in Bitcoin, 17% in Ethereum, 10% in Binance coin, and so on. It is a great way to build a diversified crypto portfolio without going through the long process of researching the crypto market.
Your capital is at risk.
Make a Passive Income By Staking Crypto Coins
If you plan to make a long-term investment in a cryptocurrency project, staking is one of the best methods to gain passive income. It is the process of locking up a certain amount of your cryptos through a platform and earning rewards for that. Not all the cryptocurrencies can be staked, though: only those built on the Ethereum blockchain and use the ERC-20 token standard. 
In other words, the projects that use the Proof-of-Stake consensus mechanism to operate their blockchain. Let's say you have invested in the most popular stackable asset and intend to store them for a long period. Instead of keeping your tokens in a digital wallet, for example, you can stake them to contribute to the network and get rewards for that. And clearly, it's a smart decision to choose the best platforms and coins to stake.
When staking a cryptocurrency, first, you need to get familiar with the terms of staking that asset. You need to consider the minimum number of tokens you must own to be able to stake them and how much time your assets will be locked up. Also, it is important to understand the yield that the platform offers for staking your asset. 
Invest in Crypto Stocks and ETFs
Our last tip about getting into the cryptocurrency market is to invest in crypto stocks and ETFs. In this case, you don't directly buy a certain cryptocurrency but buy the crypto ETF which is a basket of assets combined to help you easily diversify your portfolio. Crypto ETFs are becoming increasingly popular in the market as they aim to gain diversified exposure to the crypto market. 
Traders also use this method to maximize their profits while saving time. In this case, they don't spend time picking the coins individually but invest in an already chosen collection of assets. However, it should be mentioned that crypto ETFs are quite risky, and you always need to do your own research before getting started with them. 
---
How to Get Into Cryptocurrency Mining
Cryptocurrency mining is a popular concept in the industry which is the process of validating the transaction on the blockchain. The latter results in resting a new block, and those who do it get rewarded with new coins. This consensus mechanism is called Proof-of-Work, and Bitcoin is the most popular crypto to use it. 
When Bitcoin was first introduced, its mining process was quite simple and could be done with a PC at home. However, along with its development and price growth, more and more people get involved in it, which has made the process harder. Plus, the number of Bitcoins that can be mined is halved every four years, which is another factor influencing its mining process. 
Today, a powerful computer that you use at home is not enough to mine Bitcoin, and you must have powerful and expensive hardware to do that. Additionally, you need to spend a lot of money on electricity bills as Bitcoin mining consumes huge amounts of electricity. Hence, getting into cryptocurrency mining can cost you a lot of time and money. Plus, you will understand if the results are worth it. 
There is another quite popular consensus mechanism used by Ethereum and other projects based on it. It is called Proof-of-Stake and provides regular rewards through staking. You are supposed to lock up a certain number of tokens into the network to contribute to the blockchain's operations. You will get rewards in the form of new tokens for the service you provide. 
While staking may seem quite simple in the beginning, it can be a bit tricky for the beginner. So, we recommend you start making money with cryptocurrencies with easier methods, such as investing in crypto presales. It is the best way to start without spending too much time and money on it. 
eToro – Best Platform to Get Into Cryptocurrencies
eToro is an excellent cryptocurrency exchange to start with if you are new to cryptocurrency trading. The broker provides a tremendous crypto trading experience with a user-friendly platform, competitive trading tools, a good number of cryptocurrencies, and various trading tools that will help you build your portfolio and bring your trades to a new level. In this section, we will introduce some of the best advantages you will get trading with eToro. 
To start trading with eToro, you must open a trading account which is a straightforward process. As eToro is a heavily regulated platform, you must also verify your account and go through the KYC process. This will also ensure that your account is safe and secure. eToro uses strong security mechanisms to keep your funds and the account away from fraud and malicious logins. 
After having a verified account and funding it you can start trading with eToro. The broker requires you to have at least a $10 deposit on your account, irrespective of the money you will use for trading. The broker supports a good selection of cryptocurrencies, with more than 75 cryptos available to trade. The list includes some of the most well-established and popular coins, such as BTC, ETH, DOGE, AAVE, etc. 
Along with it, eToro supports a wide range of tools not only for expert traders but also for beginners. One of the most popular tools is the CopyTrader tool which enables you to mirror the trades of any other expert trader on the platform. This will help you save time on building your own strategy and use the ones created by a professional trader. 
Smart Portfolios is another excellent tool provided by eToro, which takes an innovative approach to creating a portfolio to bring you long-term returns. The portfolios are curated by eToro's analysts, and the tool is a great way to build a diversified portfolio adapted to the standards of the market. Other than that, eToro provides a Copy Portfolio tool that allows you to copy the portfolios of other traders. 
Another way to make money with cryptocurrencies is to use eToro's staking system. Through it, you can just lock up the coins on your exchange account for a certain time and earn monthly interest. Staking cryptos with eToro is easy and secure. You just need to select which assets you want to lock up, and the broker will execute the entire procedure for you effectively and securely. 
eToro is also popular with its competitive pricing structure. The broker charges only a transaction fee of 1% every time you buy and sell crypto. The non-trading fees are convenient too. There are no account management and deposit fees, but you will be charged a $5 fee for withdrawing funds from your eToro account. 
Your capital is at risk.
Conclusion
Figuring how to get into cryptocurrency can seem tricky at first, but it is actually simpler than one can imagine. If you have difficulties with it, there are several ways to get started crypto trading. Throughout the guide, we have discussed multiple ways of getting into both new and old cryptocurrency projects and introduced the top 8 tips to get started. 
We consider that investing in crypto presales is among the best strategies because you start investing with little money. As long as the projects are about to launch, they conduct a presale and sell the token at its lowest price. The token gets listed on the exchange with a higher price, but it can further grow based on the popularity and adoption of the project.
So, investing in the early stages of the development of a project can bring you good returns in the future. According to our research, RobotEra and Fight Out are currently the best crypto presales to purchase. Both apps offer new and exciting features, allowing you to earn money playing and taking care of your fitness.
Readers ready to take the next step may also be interested in our related guide on how to money with cryptocurrency.
Fight Out (FGHT) – Newest Move to Earn Project
CertiK audited & CoinSniper KYC Verified
Early Stage Presale Live Now
Earn Free Crypto & Meet Fitness Goals
LBank Labs Project
Partnered with Transak, Block Media
Staking Rewards & Bonuses
FAQs on Getting into Crypto
What is the best way for a beginner to get into crypto trading?
We have shared several tips that you can use to start trading cryptocurrencies as a beginner. Perhaps, the first thing you should do is to get a fundamental understanding of the cryptocurrency market. Simultaneously, you can use your theoretical knowledge in practice by creating a trading account and starting with some small-volume trades. Alternatively, you can start investing in popular crypto presales, which are quite affordable and easy to start with.
Is it a good time to get into the crypto market?
Cryptocurrencies have been in the bear market for the last few months, experiencing a deep drop in their value. However, the situation has changed since January, and many cryptos have experienced a big pump. Bitcoin's value has grown to $23,000 from $16,000. So, it is a good time to get to trading as the prices are expected to increase even higher. In any case, do your own research before investing in any project and make sure that it is worth your money.
How can I get a passive income from cryptocurrencies?
One of the most popular methods to make a passive income from cryptocurrencies is staking. Crypto projects based on the Proof-of-Stake consensus mechanism will let you lock up a certain amount of your assets, thus contributing to its network safely. In return, you will be regularly rewarded with new tokens. ETH is the most popular crypto to stake, and all the other tokens based on the Ethereum blockchain are stackable as they use ERC-20 token standard.
How much money do I need to get into cryptocurrencies?
It depends on your trading strategy and plans. You can start by investing in several cryptocurrency presale projects which are traded below $1. It is quite a good way to start, as these projects may increase by several times once they land on exchanges. You can also open a trading account with a reputable crypto exchange and start trading. In that aspect, eToro is among the most popular crypto exchanges that allow you to start crypto trading with a minimum of $10 deposit and the lowest trade of just $10 too. So you can start with as low as $20-30. Building a diversified portfolio and getting to trading with a certain will require a bit more investment than that.