view original
post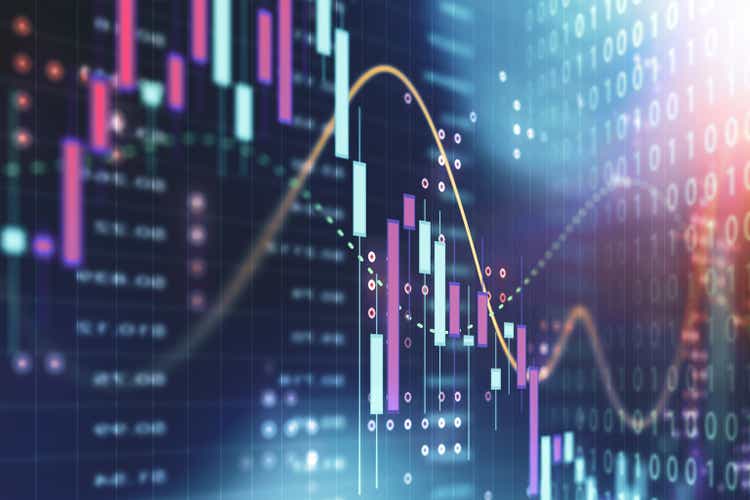 Written by Nick Ackerman, co-produced by Stanford Chemist. This article was originally published to members of the CEF/ETF Income Laboratory on March 14th, 2023.
Calamos Global Total Return Fund (NASDAQ:CGO) is the globally-focused counterpart to the significantly larger Calamos Strategic Total Return Fund (CSQ). While these funds have the flexibility to invest where they want, and they've done a fairly decent job of providing returns relative to their peers, they suffer from the same problem. That is a narrow discount or even trading at slight premiums.
Thus, being a more patient investor can provide better entry opportunities. That being said, if you are a longer-term investor, a fund trading at even a slight discount could still have appeal. That's because it doesn't mean that they can't provide returns going forward.
As a point, CGO has provided relatively strong returns compared to the broader market since our last update. The S&P 500 Index isn't necessarily an appropriate barometer for CGO, but it can provide some context. Some of this performance came from the fund going from a nearly ~5% discount previously to now below 3%.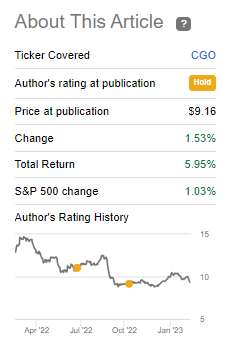 However, it can be a headwind for a closed-end fund if trading at too much of an elevated level. It also means less potential downside protection on a share price basis, as funds can often go to fairly deep discounts during times of volatility. This brings up another interesting point, despite the shaky market lately, CGO has been able to hang on to its narrow discount.
The Basics
1-Year Z-score: -0.69
Discount: -2.92%
Distribution Yield: 10.32%
Expense Ratio: 1.83%
Leverage: 30.67%
Managed Assets: $140.2 million
Structure: Perpetual
CGO will "seek total return through a combination of capital appreciation and current income." They attempt this "by investing in a globally diversified portfolio of equities, convertible securities and high-yield corporate bonds." Generally, equity positions are the largest allocation of the fund. That's followed by a material allocation to convertibles and then corporate bond exposure to a lesser degree.
The fund is small, and that means daily trading volume tends to be quite shallow. A larger investor could have difficulty getting in and out of the fund. It also can mean a higher expense ratio as operating expenses isn't spread across as much capital. As the fund has been getting smaller, the expense ratio has also increased over time. Without leverage, the fund's assets would be under $100 million.
When including leverage expenses, the expense ratio comes to 2.86%. Fortunately, some of the fund's borrowings are through mandatory redeemable preferred shares with fixed-rate costs.
That means as interest rates rise, these costs will not. That's unlike the fund's liquidity agreement, which is based on OBFR plus 0.80%. Total borrowings were $43 million at this time, with $26 million coming via the liquidity agreement.
Interest rates have blasted higher, and that meant the borrowing costs for this form of leverage have also exploded. A silver lining to the whole financial stress lately is that there is now talk of a Fed rate hike pause. A pause would see the costs here stabilize. However, it could only be a temporary pause, and it is anything but certain that it will even take place.
Performance – Relatively Strong Results, But Not A Buy Due To Narrow Discount
The fund's global positioning has meant over most of the last decade; it has underperformed its U.S. counterparts. Finding specific peers for funds such as CGO and CSQ is rather difficult due to their special focus on equities. Then they mix in convertibles and high-yield bonds, so the flexibility here differentiates them from even other multi-asset focused funds.
One way to highlight the underperformance of global positions in this fund, we can compare it to CSQ. This has been the result of the last decade on a total return and total NAV return basis. CSQ has clearly outperformed, given its more specific focus on U.S. holdings. CSQ has roughly 94% of its portfolio in North America compared to CGO's 54% weighting.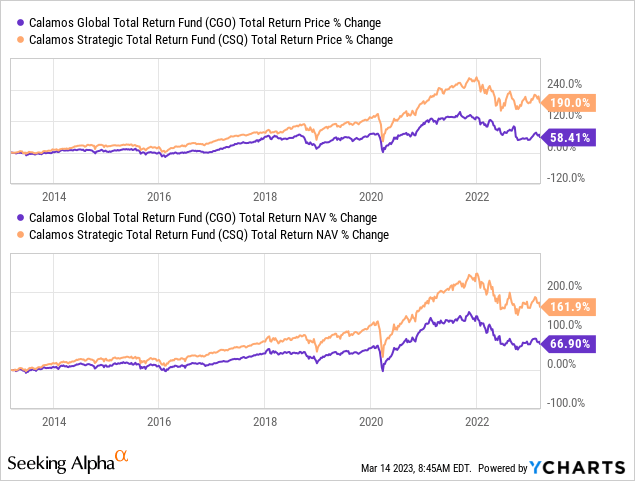 Looking at the fund's provided benchmarks in its annual report, we can see that the fund has outperformed or provided competitive results over the longer term. Thus, compared to more appropriate benchmarks, the fund has done better.
However, in the last year, it had underperformed significantly. I believe this is largely driven by the incorporation of leverage for this fund relative to its benchmarks, which are non-leveraged indexes or blends of indexes. Therefore, highlighting the benefits of leverage but also the downside risks.
The data is as of October 31st, 2022, their last fiscal year-end. So it's a bit dated, but it's the last time they show performance relative to these more appropriate benchmarks.
With the fund's current discount, we aren't looking at an overly impressive entry level. Which is the main point of the article here on why I believe the fund is more of a "Hold" rather than a "Buy."
The fund has been able to trade at a premium for an extended period of time. In fact, we were at an all-time high premium level in the last decade, right before the fund cut its distribution. Interestingly, this fund also mostly shrugged off the COVID downturn by only going to a fairly shallow discount.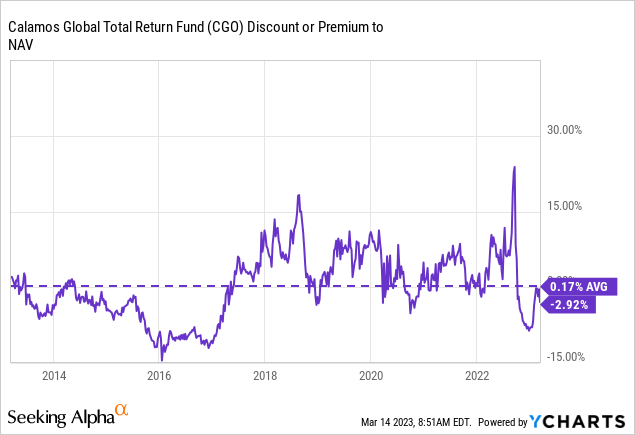 This could be used as a basis to make a determination that CGO is still trading rather cheaply, at least relative to its historical trading range. However, I think there are more appealing options with other funds trading at discounts. A mixture of holding multiple funds like the Eaton Vance Tax-Advantaged Global Dividend Income Fund (ETG) and Bancroft Fund (BCV) could give you similar exposure at a better valuation.
Distribution – Still Elevated
The fund has performed better since our last update; however, a sustainable recovery in the market has not taken hold yet. Thus, the 10.02% NAV distribution rate continues to signal that the payout is elevated. That's even after the fund cut for only the second time since the fund's launch.
As a mostly equity fund, they will rely on capital gains to fund their distributions. In fact, if we look at net investment income, it's actually a loss. Meaning that CGO relies entirely on capital gains to fund its distribution, which puts us in the situation of why a ~10% rate can be hard to maintain.
Due to a premium on the fund regularly, they've been able to issue additional shares in an accretive manner. Back at a discount, they might not be able to pull that off as much in this fiscal year.
However, there is another wrinkle here. These convertible funds from Calamos have had significant amortization that is deducted directly from their total investment income.
That being said, even after adjusting the fund's amortization and if we added that back to NII, it would still only take us to a $141,272 level. Shares outstanding were 9,823,566 – meaning that the fund would pay out closer to $9.431 million going forward over the next twelve months. Which means we are still significantly below what the fund is paying out.
To help gather some capital gains for the fund, some purchased and written options have contributed to a portion of the realized gains in the last fiscal year. That being said, it's been fairly minimal.
For tax purposes, the fund had classified 2022's distributions as a split between return of capital, long-term capital gains and short-term capital gains (taxed at ordinary income rates.) The ROC in the last year would have been considered destructive ROC. ROC isn't always bad, but ROC that will erode the fund's capital isn't ideal for an extended period. However, even ROC can benefit investors due to not being taxed in the year received. Instead, it reduces an investor's cost basis.
CGO's Portfolio
Equity positions make up 61.4% of the fund. However, another 22.36% is allocated to convertible securities. These are securities that have characteristics of both equity and bonds. However, when the fund bought convertibles in 2020 and 2021 being issued at incredibly low yields, they've become more aligned with their equity characteristics rather than the bond personality. The good part about that is that they can be less interest rate sensitive.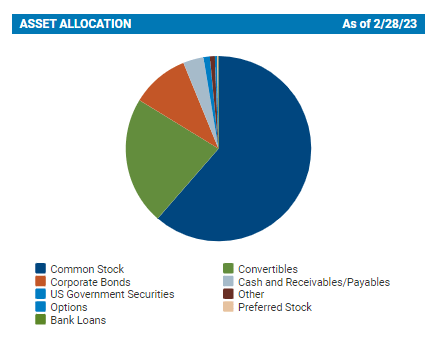 This happened because when yields are incredibly low or even zero in some cases, the only gains will come primarily from capital gains. That can only happen when the underlying performs well, and the conversion to common stock makes sense. Due to buying some convertibles above face value, losses are more likely to take place as it would mean a loss even if the face value is paid back. More growth-oriented companies often issue convertibles as a cheap way to finance growth.
Since our last update, the fund's weighting to common equity has increased from the 55.30% it was held at the end of October. The weighted average duration of the bond portion of their portfolio remained low at 2.2 years, highlighting that they are fairly limited in terms of their direct sensitivity to interest rates. Interest rate impacts indirectly by reducing the attractiveness of their growth-oriented portfolio is another matter.
On a bright note, the fund is fairly diversified between different sectors. Tech is the largest weighting, but it isn't excessive.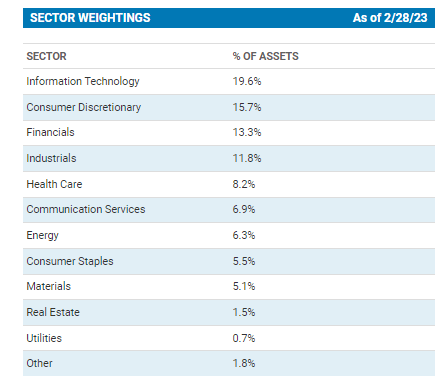 Additionally, the top ten positions are all fairly smaller allocations as well. No position making up a materially overweight position can mean that a failure of a couple of companies is unlikely to derail the fund.
Several of the top names here include some of the mega-cap tech names we see in plenty of other funds. That includes the usual MAMAA stocks, Microsoft (MSFT), Amazon (AMZN), Alphabet (GOOG) and Apple (AAPL). CGO is missing Meta Platforms (META) as a top holding, but it remains a position in their portfolio at a smaller allocation. That's a fairly common one to be missing for CEFs.
Conclusion
CGO has provided relatively strong results and could benefit if global investments perform well going forward. The distribution cut was necessary, but it might not have been enough to make it sustainable just yet. As most equity funds do, the fund will require a recovering market to make its distribution more sustainable. However, the main downside here, in my opinion, is a narrow discount that would keep me from adding at this time.
Editor's Note: This article covers one or more microcap stocks. Please be aware of the risks associated with these stocks.