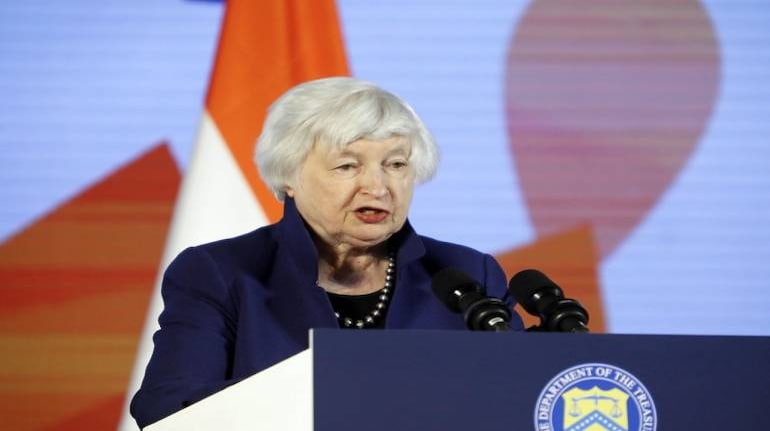 Janet Yellen, US Treasury secretary, speaks during a news conference at the Group of 20 (G-20) finance ministers and central bank governors meeting in Bengaluru, India, on Thursday, Feb. 23, 2023. The global economy is in a better place today than many predicted months ago, Yellen said today, while reiterating her calls for support to Ukraine on the eve of the one-year anniversary of Russia's invasion.
Treasury Secretary Janet Yellen said a soft landing is a possible outcome for the US economy thanks to its strong labor market and the absence of balance sheet problems like the ones that preceded the global financial crisis.
Her comments, delivered Friday to reporters at a briefing on the sidelines of the Group of 20 meeting of finance ministers and central bank governors in Bengaluru, India, echo her more positive tone on the global economic outlook outlined a day earlier.
"I see a soft landing as being a possible outcome and the one that I hope we will be able to achieve," Yellen said. "The economy is fundamentally in good shape, and inflation is coming down if you measure it on a 12-month basis."
She cautioned that labor markets remained tight and core inflation, the measure that excludes food and energy, remains higher than is consistent with the 2% target, adding that "there's still work to do to get it down."
Recent indicators have shown a strong start for the economy in 2023, with job growth, retail sales and service-sector activity all accelerating in January. The monthly pace of consumer-price gains also picked up.
Meanwhile, US economic growth in the fourth quarter was weaker than previously estimated, Commerce Department data showed, reflecting a downward revision to consumer spending as the Federal Reserve's preferred inflation figures were revised higher.