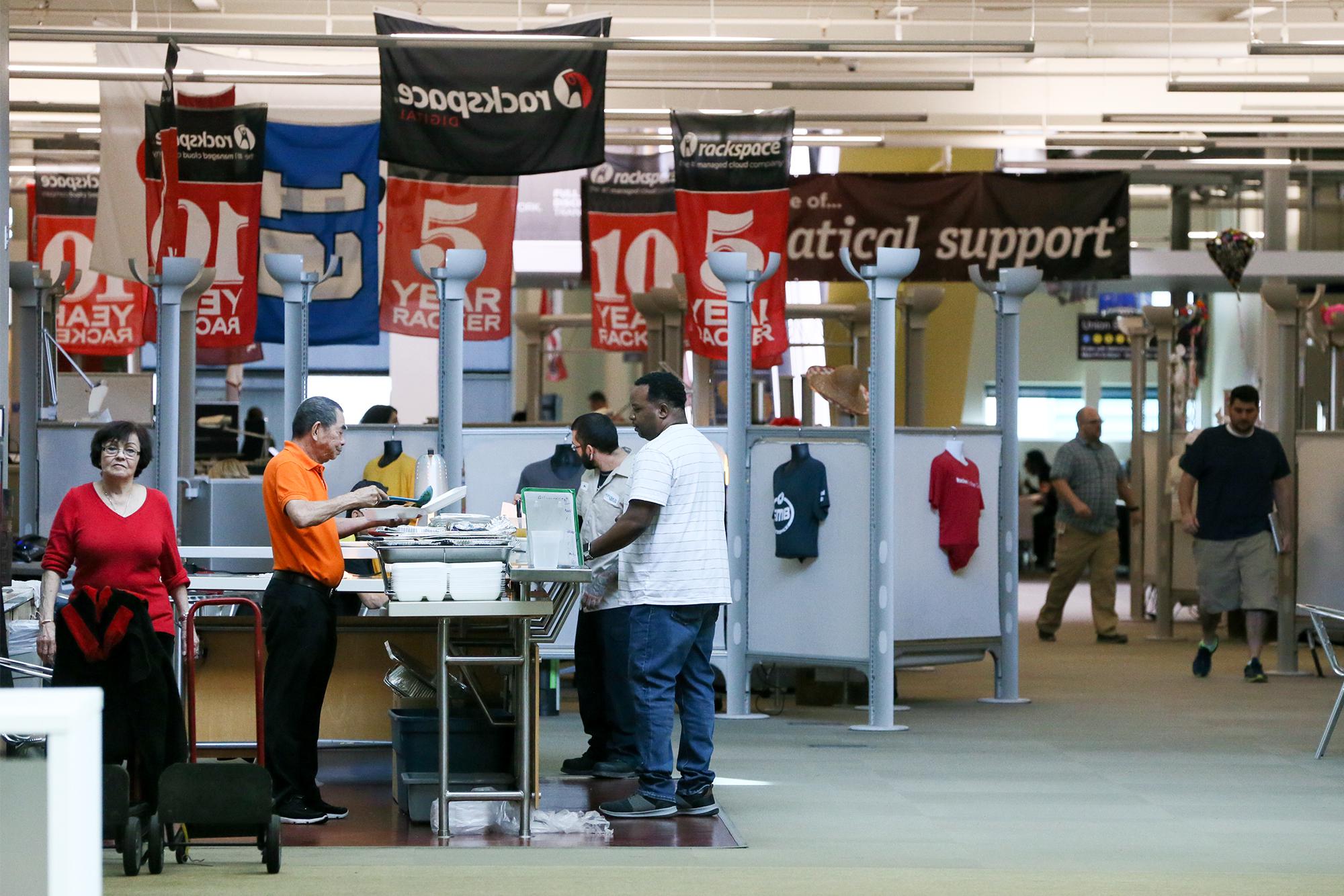 Rackspace Technology Inc. shares jumped about 10 percent after the San Antonio cloud computing company
reported earnings Wednesday
that topped Wall Street's expectations.
"I've been laser focused on transforming Rackspace Technology into a customer-first cloud first company and changing the trajectory of our performance," CEO Amar Maletira told analysts and reporters during a conference call Wednesday afternoon.
On ExpressNews.com:
Rackspace Technology signs agreement with Saudi Arabia for cloud computing services
Maletira, who took over as CEO in September, said the company has "achieved significant milestones" that include the new business model and new leadership.
"We are poised to drive these changes throughout the company and bring our strategy to life," he said. "We are very focused on fixing this business for the long term, even if it requires near-term disruption. While the next few quarters may be choppy, our focus is on positioning the company for sustainable growth heading into 2024."
Its financial results, while topping analysts' forecasts, continued the company's recent history of net losses despite steady revenue growth. Though its shares were down nearly 4 percent in Wednesday's regular session to close at $2.64, they were up nearly 10 percent in after-hours trading after Rackspace reported results after the market closed.
For the three months ended Dec. 31, Rackspace reported a net loss of $214 million on revenue of $787 million. That compared with a net loss of $83 million on revenue of $777 million in the same period a year ago.
The results included impairment charges of $129 million due to a decline in market capitalization after the December ransomware attack and $75 million related to the company's impending move from its longtime headquarters in Windcrest to North San Antonio later this year.
For the full year, Rackspace said its net loss widened to $805 million from $218 million in 2021. Revenue increased to $3.12 billion $3.01 billion a year earlier.
Driven down by continuing losses, the company's restructuring rollout and the ransomware attack, Rackspace stock fell nearly 80 percent in 2022.
On ExpressNews.com:
Rackspace's reputation taking a hit as response to ransomware attack falls short of customers' hopes
Wednesday, it forecast first quarter 2023 revenue would be in the range of $754 million to $762 million.
New hires, relocation plans
Founded in 1998, Rackspace has long struggled to find its place in the growing cloud-computing market. New York-based Apollo Global Management took the company private in a $4.3 million deal in 2014 before taking it public again in 2020. Its performance has floundered.
That was a factor behind the restructuring rolled out early this year, which split it into units providing public cloud and private cloud services. Public clouds are subscription services shared with customers over the internet. A private cloud is a service controlled by one business or organization.
In July, Rackspace began filling its roster for the restructuring plan with the hire of Dharmendra Sinha as president of its public cloud business unit. In September, the company
tapped
Maletira — its former president and chief financial officer — to replace Kevin Jones as CEO. Then, in November, it
named
Bobby Molu to replace Maletira as CFO.
On ExpressNews.com:
Rackspace rolls out restructuring plan with new execs to lead separate cloud business units
There have been other big shifts, too.
In October, the company announced it would put its headquarters in Windcrest up for sale and downsize to office space near Stone Oak. Then, it was hit by the Dec. 2 ransomware attack.
With its reputation on the line, Rackspace last month hired Brian Lillie to be president of its new private cloud business unit.
Maletira said the company now "has strong leadership" for its private and public cloud businesses.
"While we are only a couple of months into a new operating model, I'm encouraged by the early signs of progress, although it will take time to fully reflect this progress in financial results," he said. "I strongly believe we are headed in the right direction."
Looking ahead, Maletira noted a challenging "macro environment" and longer sales cycles.
"The recent economic slowdown has also led many companies to take a more deliberate approach to evaluating whether a workflow should operate in public or private cloud to optimize for performance and costs," he said.
Still, Rackspace is "one of the largest scaled players in private cloud," he said.
He has said the company is positioned to do well in the private cloud market because it has global experience and partnerships with Dell, the Round Rock-based tech giant, and VMware, a cloud-computing firm in California.
eric.killelea@express-news.net