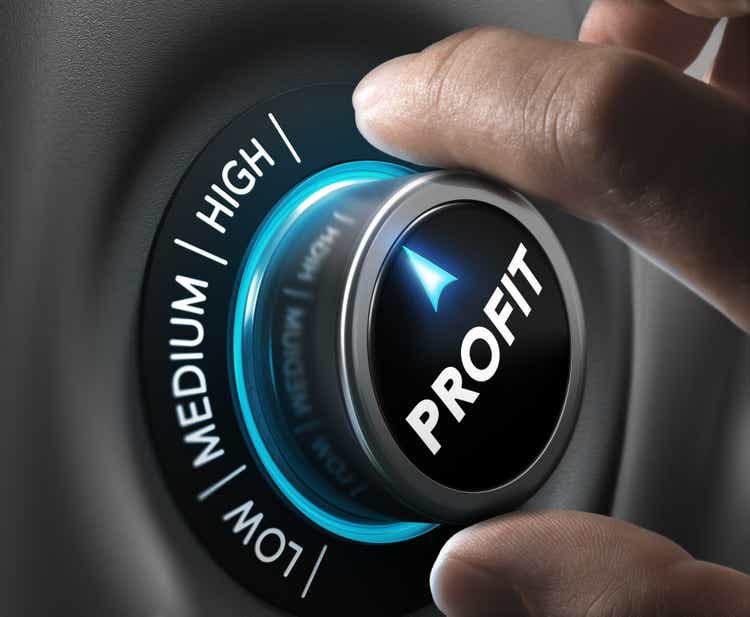 The CION Investment Corporation (NYSE:CION) business development company ("BDC") can help investors earn high returns in 2023, a year with a most bearish outlook for the S&P 500 Index (SP500) due to the high risk of an economic meltdown and high-interest rates. In terms of total returns, CION also seems to be in a position to outperform industry peers. It is well-positioned to handle uncertainty and tail events, thanks to its high portfolio yield relative to peers, low leverage, and a very small percentage of investments in non-accruals. Although its stock has risen sharply in the last six months, there is still significant room for further gains given the company's strong earnings growth potential and a large gap between the current price and net asset value.
2023 Outlook and BDCs
Let's first look at why BDCs are set to prosper in 2023 before getting into why CION Investment could be a better choice than its peer group. In 2023, stocks are unlikely to recover their 2022 losses based on a median S&P 500 forecast of 4000. In fact, some market analysts believe that the U.S. stock market will continue to lose value due to the recession, a sharp earnings decline, and additional rate hikes. Since 1927, the S&P 500 has only ever experienced four separate consecutive years of declines, and whenever that has happened, losses were noticeably greater in the second year than they were in the first.
Market fundamentals also do not support a formation of bullish trend, with data from the retail, housing, industrial, and employment sectors all showing significant decreases from the previous year. Profits at major U.S. banks fell sharply in the fourth quarter, with executives attributing the drop to difficult market conditions. Goldman Sachs (GS), for example, has missed earnings by a wide margin since the third quarter of 2011, with revenue falling 16% and profits declining 66% year over year. Morgan Stanley's (MS) revenue fell 12% year on year, while earnings plunged nearly 40%.
However, in this challenging environment, business development firms continue to prosper. This is due to the fact that middle-market businesses are increasingly searching for alternative financing sources as a result of the strict lending requirements set by conventional lenders. Furthermore, a decline in venture capital investments has forced middle-market businesses to turn to business development companies. On the other hand, BDCs employ strict investment selection criteria to produce a high risk-adjusted return for shareholders. BDCs has also been benefiting from high interest rates due to their floating nature portfolios. Consequently, nearly 90% of BDCs raised their dividends in 2022, with many paying special and supplementary dividends to investors.
CION Investment Outperforming S&P 500 and Industry Peers
CION Investment, which was listed on the S&P 500 in 2021, seeks to invest in middle-market companies with EBITDA in the range of $75 million to $35 million. In the last six months, its stock has risen 30%, with total returns hovering around 38%. One of the main factors contributing to CION's outstanding share price gains over the past six months was its floating-nature portfolio and investment selection criteria, which have started to generate sizable net investment income growth. For example, in the third quarter of 2022, its net investment income increased to $0.45 per share, up $0.11 from the previous quarter. A 10% increase in the base quarterly dividend and a massive $0.27 special dividend also helped boost investor confidence and total returns. Its plan to buy back $60 million worth of its outstanding shares has also contributed to its share price performance. With a net asset value around $16 per share, which is higher than the current stock price of $10, the company's stock still has a lot of room to grow. An A grade on valuation based on Seeking Alpha quant ratings also indicates that the stock is trading at an attractive price.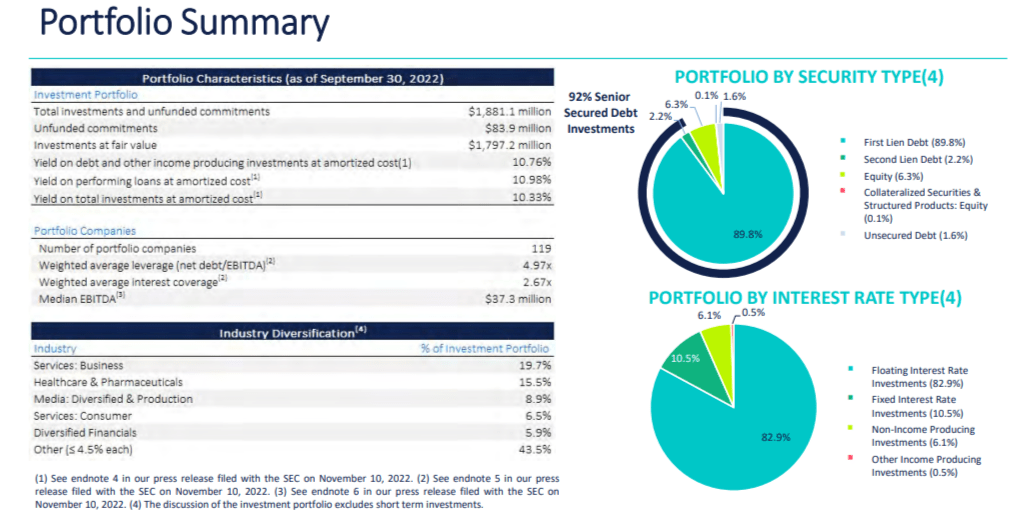 I anticipate significant growth in CION's earnings per share in 2023 because interest rates have risen by nearly 200 basis points since September 2022, and another 75 basis point of growth is anticipated in the first half of 2023. A 100 basis point increase in interest rates is expected to boost its earnings by $0.12 per share, while a 200 basis point increase could enhance earnings by $0.25 per share. As of the end of third quarter of 2022, more than 82% of the company's portfolio investments had floating rates.
In addition, the company reiterated its strategy of deploying available capital at floating rates into middle-market opportunities that typically pay a yield premium when compared to broadly syndicated deals. Its investment selection strategy focuses on choosing businesses with strong EBITDA growth and institutional backing. This strategy contributes to generating high-risk adjusted income while keeping non-accruals at the industry's lowest levels.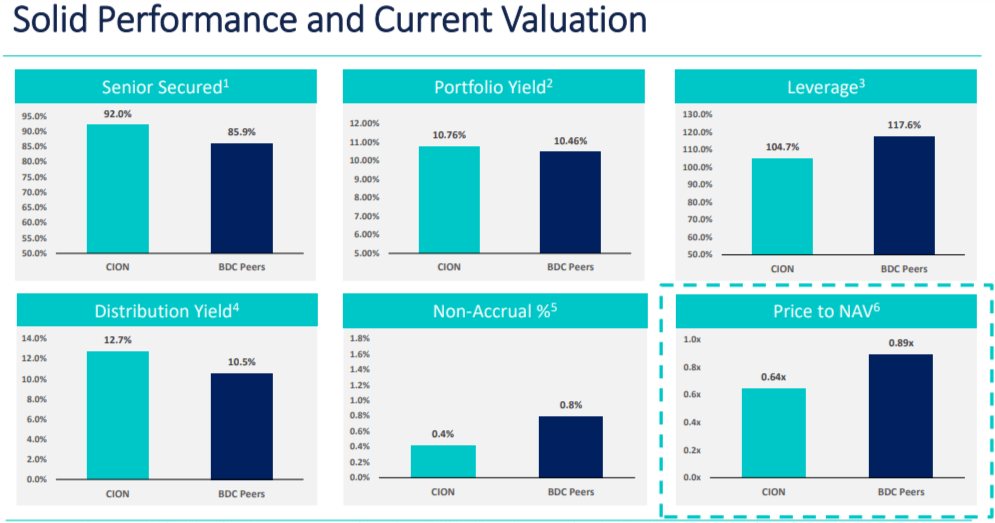 CION's investment strategy has allowed it to outperform peers on important internal metrics, as shown in the chart above. As of September 30, 2022, non-accrual accounted for only 0.4 percent of CION's investment portfolio compared to industry average of 0.8 percent. During the third quarter, the company removed one name from the non-accrual status while making no additions to the category. Compared to its competitors in the market, CION also has a higher portfolio and distribution yield. The company also seems to be in a strong position to expand its investment portfolio with low debt-to-equity ratio of 104. Moreover, almost $400 million in unencumbered assets, $53 million in cash and short-term investments, and access to an additional $72 million under facilities looks sufficient to finance its investment pipeline.
Where do Peers Stand?

Despite double-digit dividend yields and healthy dividend increases, many business development companies continue to provide low total returns. This is due to their stock's underperformance, which can be attributed to a variety of factors such as high non-accruals, declining net asset value, and slow net investment income growth than peers. Therefore, when investing in BDCs, investors should choose carefully.
If you want to achieve high total returns, select BDCs that not only pay out healthy dividends but also have a consistent upward stock price momentum. For instance, the well-known business development company Goldman Sachs BDC (GSBD) had a negative total return of about 5% over the previous six months despite offering a double-digit dividend yield. Slow investment income growth and a high non-accrual percentage in comparison to peers have contributed to a significant drop in its share price. There is a risk of further growth in non-accruals in 2023 given the weighted average interest coverage ratio of 1.8x, which fell from 2.1x in the previous quarter. PennantPark Investment Corporation (PNNT) is another stable BDC with around an 11% dividend yield and low share price momentum.
However, Fidus Investment (FDUS) seems to be in a better position to gain from improving fundamentals than PennantPark and Goldman Sachs BDC. Robust investment income growth, gains from equity stake exits, and an aggressive investment strategy in cash-yielding assets enabled it to pay out $2 per share in dividends to shareholders in 2022. The stock price of the company increased 10% in the last six months and 17% in the last year as strong financial results helped boost investor confidence. Read my article, "BDCs: Fidus Investment Looks More Attractive Than Goldman Sachs BDC," to learn more about Fidus Investment and Goldman Sachs BDC. Meanwhile, CION Investment outperformed all of its peers in terms of total returns.
In Conclusion
Although business development firms are doing well in the current economic climate, it's a smart idea to pick one that gives substantial returns at low risk. CION Investment Corporation has the potential to provide high-risk-adjusted returns because its portfolio appears to be well-positioned to capitalize on positive industry trends. The company is anticipated to produce strong net investment income and dividend growth in 2023, which will support the continuation of the upward trend in CION Investment Corporation's share price.