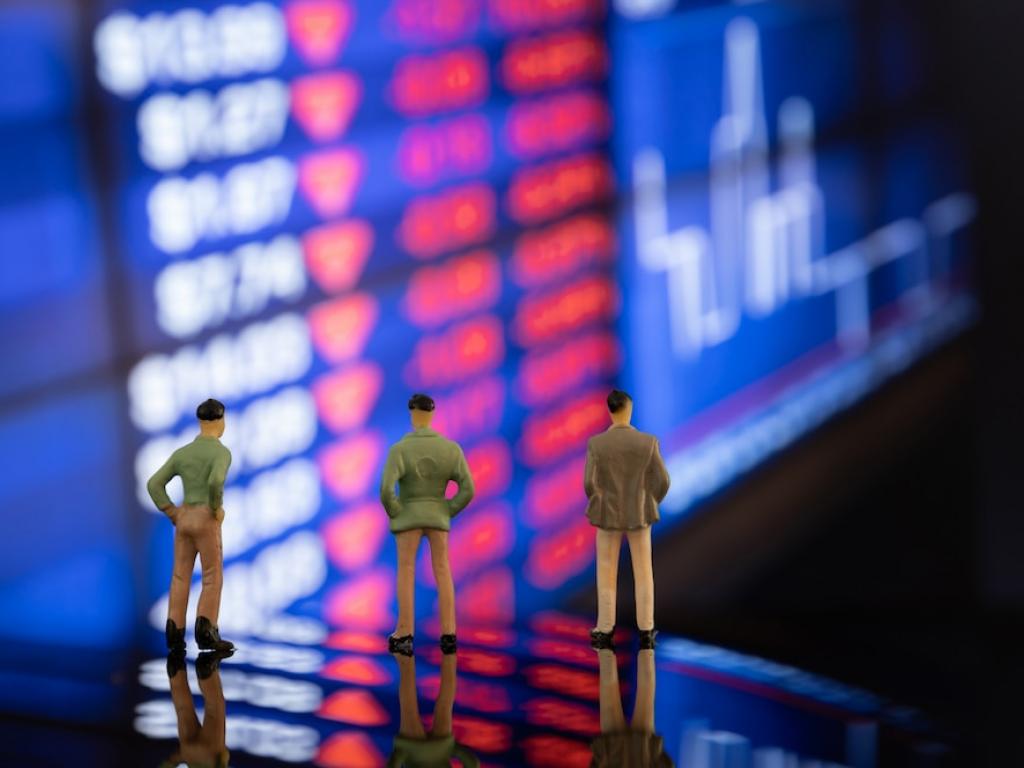 U.S. stocks traded mixed this morning, with the Dow Jones dropping around 50 points on Friday.
Following the market opening Friday, the Dow traded down 0.17% to 32,989.27 while the NASDAQ rose 0.66% to 10,923.75. The S&P 500 also rose, gaining, 0.22% to 3,907.57.
Check This Out: Insiders Selling Delta Air Lines And 3 Other Stocks
Leading and Lagging Sectors
Communication services shares rose by 2.6% on Friday. Meanwhile, top gainers in the sector included Clear Channel Outdoor Holdings, Inc. (NYSE:CCO), up 8%, and Netflix, Inc. (NASDAQ:NFLX), up 8%.
In trading on Friday, utilities shares dipped by 1.1%.
Top Headline
Netflix Inc (NASDAQ:NFLX) reported downbeat earnings for the fourth quarter, while sales topped expectations.
Netflix added 7.7 million paid subscribers during the quarter, which was well ahead of company expectations of 4.5 million. The company's co-founder Reed Hastings stepped down as the chief executive and will be serving as Executive Chairman.
Equities Trading UP
Genius Group Limited (NYSE:GNS) shares shot up 88% to $3.92. Genius Group shares jumped 290% on Thursday after the company approved a plan to create an 'Illegal Trading Task Force.'
Shares of Cosmos Health Inc. (NASDAQ:COSM) got a boost, shooting 21% to $3.74. Cosmos Health recently issued an update on its debt balance and proforma interest expense.
Magic Empire Global Limited (NASDAQ:MEGL) shares were also up, gaining 22% to $3.3710.
Equities Trading DOWN
FARO Technologies, Inc. (NASDAQ:FARO) shares tumbled 20% to $28.21 after the company announced pricing of a $60 million convertible senior notes offering.
Shares of Panbela Therapeutics, Inc. (NASDAQ:PBLA) were down 12% to $2.8850. Panbela, on Thursday, announced adoption of commission implementing decision from the EMA for the orphan designation of ivospemin (SBP-101) in combination with gemcitabine and nab-paclitaxel in patients with metastatic pancreatic ductal adenocarcinoma.
NeuroSense Therapeutics Ltd. (NASDAQ:NRSN) was down, falling 11% to $1.9855. The company filed for mixed-securities shelf offering of up to $100 million. NeuroSense Therapeutics shares jumped 78% on Thursday after the company reported final results from its Alzheimer's biomarker study.
Also Check This Out: Bitcoin Surpasses This Key Level; Nexo, Synthetix Among Top Gainers
Commodities
In commodity news, oil traded up 0.1% to $80.35 while gold traded up 0.1% at $1,926.60.
Silver traded down 0.1% to $23.85 on Friday while copper rose 0.1% to $4.2320.
Euro zone
European shares were higher today. The eurozone's STOXX 600 rose 0.3%, London's FTSE 100 rose 0.2% while Spain's IBEX 35 Index rose 1.2%. The German DAX surged 0.5% French CAC 40 gained 0.7% and Italy's FTSE MIB Index gained 0.7%.
The annual producer inflation in Germany eased to 21.6% in December from 28.2% in the previous month. Retail sales in the UK dropped 1% month-over-month in December versus a revised 0.5% decline in November, while GfK Consumer Confidence indicator in the country declined to -45 in January from -42 a month ago.
Asia Pacific Markets
Asian markets closed higher on Friday, with the Hong Kong's Hang Seng Index rising 1.82%, and China's Shanghai Composite Index rising 0.76%. Japan's Nikkei 225 gained 0.56%.
The annual inflation rate in Japan increased to 4.0% during December, recording the highest level since January 1991. The annual inflation rate in Hong Kong accelerated to 2% in December from 1.8% in the prior two consecutive months, while business confidence indicator in the country rose to 6 during the first quarter from 4 in the earlier period. The People's Bank of China kept its key lending rates unchanged at its recent fixing.
Economics
US existing home sales dropped 1.5% to an annual rate of 4.02 million in November.
Now Read This: Fear & Greed Index Moves To 'Neutral' Zone As Dow Drops For Third Day
COVID-19 Update
The U.S. has the highest number of coronavirus cases and deaths in the world, reporting a total of 103,808,540 cases with around 1,128,330 deaths. India confirmed a total of at least 44,681,880 cases and 530,720 deaths, while France reported over 39,472,270 COVID-19 cases with 163,700 deaths. In total, there were at least 672,676,630 cases of COVID-19 worldwide with more than 6,740,380 deaths.