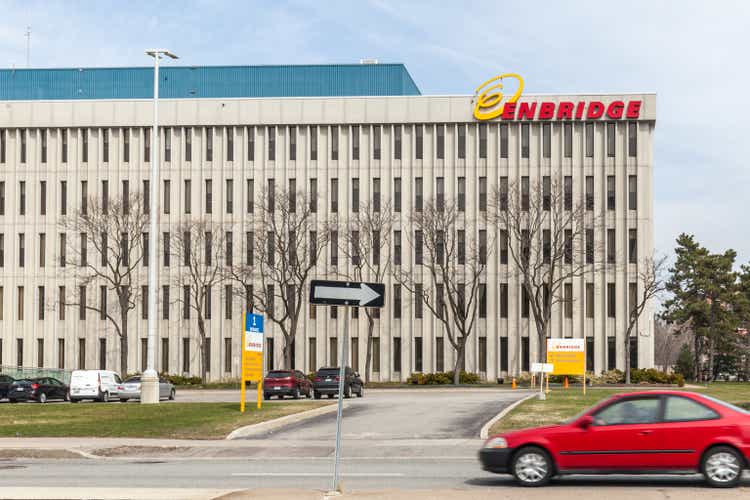 Introduction
Enbridge (NYSE:ENB) does not require a long introduction. As one of North America's most important owners and operators of pipelines to transport natural gas and liquids, the company is well known as a robust income play. In this article, I'd like to highlight Enbridge's plans for the future, but I will also zoom in on a specific series of the company's preferred shares. While the dividend yield on the common shares is appealing, some investors might prefer the lower-risk and more senior preferred shares.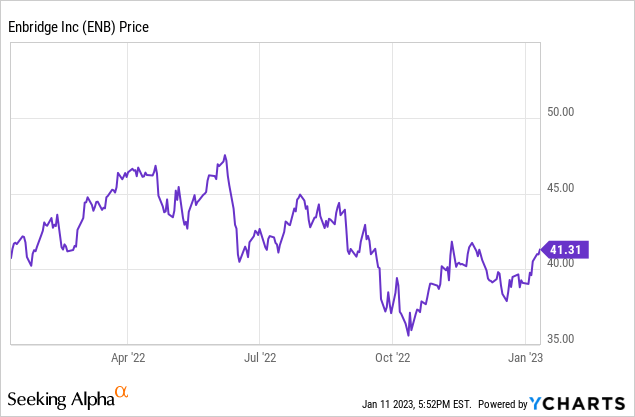 Strong results as the demand for transportation capacity remains high
There are plenty of authors here on Seeking Alpha that have done an excellent job in explaining how and what Enbridge does, so I will keep the overview limited as I would like to dive right into the financial statements. As you can see below the company operates almost 18,000 miles of liquids pipelines as well as almost 80,000 miles of natural gas pipelines. This makes Enbridge without any doubt one of the most important infrastructure plays in North America.
What I like about Enbridge are its strong cash flows, decent investment grade rating and the relatively conservative payout ratio: about 1/3rd of the distributable cash flow is retained within the company and is used to either strengthen the balance sheet and/or expand its asset base.
The company recently released its outlook for 2023. I was very interested in seeing Enbridge's DCF guidance as that will ultimately determine Enbridge's ability to cover the preferred dividends. In 2023, Enbridge anticipates generating C$15.9-16.5B in EBITDA which should result in a C$10.65-11.45B DCF or a result of C$5.25-$5.65 per share. This means the common shares are currently trading at about 10 times the DCF guidance. That's not expensive.
The DCF already includes the preferred dividend payments. As you can see below, these preferred dividends are costing the company approximately C$81M per quarter, so that's about C$325M per year. There will be some (small) fluctuations as some of the preferred shares will be reset in the near future, but the bottom line is that based on the midpoint of Enbridge's DCF guidance for 2023, the company only requires about 3% of its pre-distribution DCF to be spent on the preferred dividends.
Or in other words, the coverage ratio of the preferred shares exceeds 3,000% and preferred shareholders can rely on this income stream.
A look at the Series A preferred shares
Enbridge has several issues of preferred shares outstanding but I wanted to highlight one: the A-Series of the preferred shares (ENB.PRA:CA) were issued in 1998 and have remained outstanding since. This is a cumulative issue with a fixed preferred dividend rate of 5.5% with a C$0.34375/share quarterly preferred dividend.
At the recent share price of C$22.25, the yield on these preferred shares is 6.18%. These preferred shares can be redeemed by Enbridge at C$25 but given the relatively low cost of capital I don't think this will happen anytime soon. The shares have been callable since 2003 (at a premium) and 2007 (without premium) and if Enbridge really would have wanted to call these shares, it would (or at least should) have done so when the cost of capital was much lower.
The share price has been trending down over the course of the past year as the share price of the preferred shares will be closely correlated to the interest rates on the market. The current 6.18% preferred dividend yield is pretty appealing for investors who would like a relatively certain dividend income but don't want to be exposed to sometimes volatile share price reactions.
Investment thesis
Preferred shares are not suitable for everyone and some investors may want to buy the soon-to-be 6.5% dividend yield on the common shares and lock in potential capital gains as well rather than locking in a 6.18% yield. That's fine. I consider preferred shares to be a useful addition to the income section of my portfolio, a low-maintenance section where I know I don't have to follow the performance of the underlying company too close.
That's why I am considering adding Enbridge preferred shares to my portfolio. I already own the subordinated notes, trading as (NYSE:ENBA) but I wouldn't be surprised if Enbridge would call those baby bonds in the second quarter of this year (for a good overview of ENBA, I'd like to refer you to Arbitrage Trader's article) and I may be looking to proactively add exposure to Enbridge's dedicated income securities.
Editor's Note: This article discusses one or more securities that do not trade on a major U.S. exchange. Please be aware of the risks associated with these stocks.