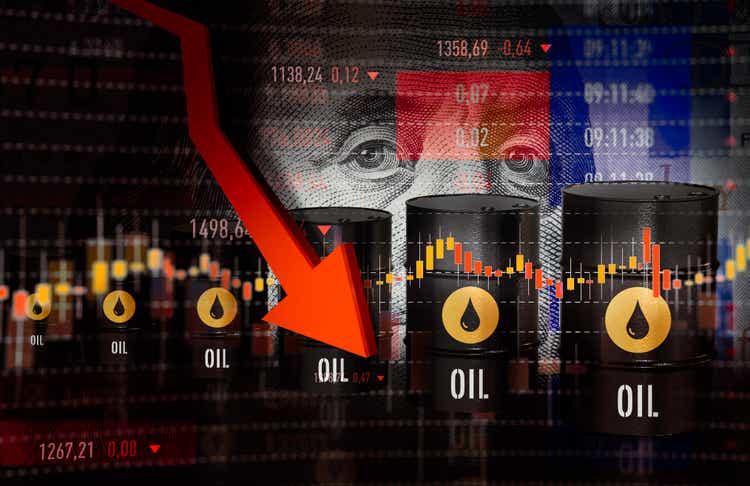 Energy Income Performance
Energy stocks bought for income rose this week, as WTI dropped 8.2% due to a weakening physical oil market and natural gas plunged 16.0% in response to forecasts for warm weather in North America and Europe. Despite these headwinds, the Alerian Midstream Energy Index gained 1.2%, and the Alerian MLP Index rose 2.6%. Not surprisingly, E&Ps couldn't avoid the commodity price carnage, sending the SPDR S&P Oil & Gas Exploration & Production ETF (XOP) down 3.2%.
The week's price action was unusual. The best performers in our coverage universe were weaker-capitalized operators and many that have exposure to commodity prices. Among the former, we suspect that part of the snapback was attributable to the heavy selling that took place over the last few weeks, as international investors disposed of their MLPs to avoid punitive tax withholding rules that went into effect on January 1.
The best example of the MLP snapback phenomenon this week was Martin Midstream Partners (MMLP), which was the sector's best performer, up 11.7% on no news. The company may have also gotten a boost from an improving bond market, which could aid its efforts to execute a refinancing.
Another overleveraged name that outperformed was NGL Energy Partners, LP (NGL). The units gained 8.3% after management increased its fiscal 2023 Adjusted EBITDA guidance by 5% and reported that the company paid down $227 million of debt, bringing its debt balance down to $3.26 billion. While these developments illustrate NGL's progress on deleveraging, we estimate they reduce NGL's leverage ratio from 5.8-times to 5.5-times, which is hardly low enough for NGL's equity to be considered safe. NGL would have to continue to outperform and pay down debt for at least another two years to bring its leverage ratio below 4.5-times, which we consider the upper bound of a reasonable leverage ratio.
It was also notable that NGL appointed a new CFO after the previous one had been in the position for little more than a year.
Given the uncertainty of NGL's ability to sustain its outperformance and management's terrible capital allocation record, we reiterate our Sell rating on NGL and recommend that investors avoid the units.
DCP Midstream (DCP) surged 8.2% after it received a sweetened buyout offer from Phillips 66 (PSX). PSX will acquire DCP shares for $41.75, above our expectation that PSX would acquire the shares at $40. The deal is fair in that it provides DCP unitholders with an attractive exit while it also leaves meat on the bone for PSX, as the lower end of our value range for DCP is $43. We don't believe another offer will be forthcoming. With DCP units trading above the sweetened price, unitholders should use the opportunity to sell.
Tellurian (TELL) shares had a dead-cat bounce that sent them 6.6% higher during the week on no news. The bounce came after the shares had lost half their market capitalization since November. We rate TELL as a Sell and recommend that investors avoid the shares. However, there may be an opportunity here for the most speculative investors. If TELL can survive for the next few months, which is likely, and if Europe's structural natural gas shortage becomes an issue next winter, which looks probable, the shares could soar several-fold from current prices.
Genesis Energy (GEL), which we flagged for a potential bounce-back after its units got hammered beginning in November, also placed among the top 10 gainers, rising 6.2%.
As for the losers during the week, royalty trusts dominated the list, which is understandable given their dependence on commodity prices. Sitio Royalties was the largest decliner, falling 10.8% during the first week of trading since it closed on its acquisition of Brigham Minerals.
Black Stone Minerals (BSM) and Viper Energy Partners (VNOM) were other royalty trusts that traded lower on no company-specific news.
The other poor performers were natural gas-weighted operators such as Kinetik Holdings (KNTK) and Cheniere Energy (LNG), which is also to be expected in a week that saw natural gas prices plunge in North America and Europe.
Weekly HFI Research Energy Income Portfolio Recap
Our portfolio underperformed its benchmark, the Alerian MLP Index, by 1.5%, giving back some of its 3.5% outperformance from the previous week. Our large holdings of BSM and Cheniere drove the underperformance.
Despite the poor performance relative to its benchmark, we're pleased with our holdings' showing. Our large MLPs outperformed during the commodity selloff, and our G&Ps held up surprisingly well. We believe the week's biggest losers, Cheniere and BSM, are undervalued at current prices and rate each a Buy. For BSM, we'd point out that commodity prices have inflected to a point that makes its hedges significantly more valuable.
The biggest news among our holdings was Targa Resources' (TRGP) announcement that it would purchase the 25% interest in the Grand Prix NGL Pipeline it didn't already own from Blackstone Energy Partners for $1.05 billion. TRGP management estimates the acquisition represents an attractive 8.75-times Grand Prix's 2023 Adjusted EBITDA
The Grand Prix NGL pipeline transports 1 million barrels per day of NGLs from the Permian Basin to Mont Belvieu, where TRGP has been growing its fractionation and export capabilities. The acquisition adds stability to TRGP's cash flows while fortifying its vertical integration through the NGL supply chain.
We like the deal and commend TRGP's management on some of the best capital allocation skills in the midstream sector.
News of the Week
Jan. 4. Colonial Pipeline Co. halted flows to the Northeastern U.S. after a 60-barrel leak of diesel on its Line 3 in Virginia. The diesel flowed into a stormwater collection basin, which minimized its environmental impact. The pipeline was back up and running on Friday, January 6. The outage had little impact on refined product supplies at New York Harbor, given its regular imports from other supply sources, including Canada, Europe, India, and South America.
Jan. 4. Antero Midstream (AM) disclosed in an SEC filing that it was awarded $242 million in damages after it prevailed in court on its claims of breach of contract and fraud against Veolia Water Technologies (OTCPK:VEOEY). The court also found in Antero's favor on all of Veolia's affirmative claims. AM is likely to put the cash to good use in accelerating its deleveraging.
Capital Markets Activity
Jan 3. Targa Resources announced the pricing of $900 million of 6.125% senior notes due 2033 and $850 million of its 6.500% senior notes due 2053 at 99.858% and 97.843% of face value, respectively. The note offering is being made to fund TRGP's acquisition of the 25% of its Grand Prix NGL Pipeline that it didn't already own.
Jan. 4. Enterprise Products Partners, LP (EPD) announced the pricing of $750 million of senior notes due 2026, which will have a fixed-rate interest coupon of 5.05%, and $1.0 billion of senior notes due 2033, which will pay a fixed-rate interest coupon of 5.35%. The company intends to use the proceeds to fund growth capital investments and to repay debt.
Editor's Note: This article discusses one or more securities that do not trade on a major U.S. exchange. Please be aware of the risks associated with these stocks.