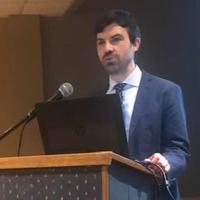 An economist at the Federal Reserve Bank of Chicago will give a talk to a Calumet Region business crowd.
The Calumet Area Industrial Commission will host Federal Reserve Bank of Chicago Senior Business Economist Thomas Walstrum at its membership luncheon at 11:30 a.m. Feb. 15 at the DoubleTree Hotel at 5000 W. 127th St. in Alsip.
He will address "The Status of The Midwest Economy and Its Manufacturing Sector."
"The Midwest Economy is constantly changing, especially its manufacturing sector, but it remains a vital one to the economy," the Calumet Area Industrial Commission said in a news release. "Chicagoland area is home to a diverse range of manufacturing industries, including food and beverage, transportation equipment and machinery manufacturing. The city has a long history of manufacturing and continues to be an important center for the industry."
The Calumet Area Industrial commission represents more than 1,500 companies from Chicago's south side, suburban southern Cook County and Northwest Indiana. Members include Ford, BP, Flex-N-Gate, Cleveland-Cliffs, Finkl Steel, CSX, Norfolk Southern, Method, Ozinga and many others. Its members employ more than 83,000 people in 50 industrial sectors that include steel, automotive, metal fabrication, food, chemical, glass and paper.
Walstrum worked in the economic research department at the Federal Reserve Bank of Chicago. He works on briefings to the Chicago Fed president on Midwestern economic conditions and contributes to the Chicago Fed Survey of Business Conditions and the Beige Book.
He has a degree from Wheaton College and a doctorate in economics from the University of Illinois at Chicago with concentrations in labor, urban economics and regional economics.