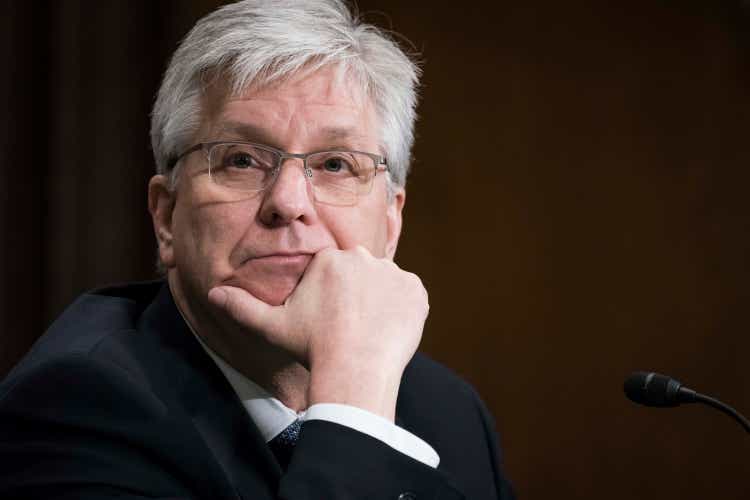 Federal Reserve Governor Christopher Waller said Friday he favors a 25-basis point rate hike at the central bank's next monetary policy meeting Jan. 31-Feb. 1, and he expects to support continued tightening of monetary policy to bring down inflation.
While economic growth appears to have slowed, the labor market still remains strong and tight, he said in prepared remarks for a speech to the Council on Foreign Relations. Real gross domestic product grew at an annual rate of 3.2% in Q3 and monthly data "suggest it grew around 2% in the fourth quarter." Meanwhile, the unemployment rate at December stood at 3.5%, matching the 50-year low reached before the pandemic.
And while there has been some encouraging data in recent months, he's still cautious. Core CPI inflation ticked up in December, he pointed out, adding that core inflation has "basically moved sideways all year."
He'll also be watching wage data. "Though recent hourly earnings data are a positive development, I need to see more evidence of wage moderation to sustainable levels," Waller said. "The Federal Reserve Bank of Atlanta's Wage Growth Tracker has been running higher lately and has moderated less."
1:58 PM ET: Waller repeats that he still doesn't see what problem would be fixed by the Fed issuing a central bank digital currency.
1:42 PM ET: The Fed's Summary of Economic Projections, at median expects ~75 bp more of rate hikes and sees the rate pause coming about midyear, he said.
1:40 PM ET: The current Fed policy rate is "pretty close" to sufficiently restrictive," Waller said.
The market is expecting inflation to fall faster than the Fed does, he noted. "If the market's view of inflation comes true, that would be great news."
Update at 1:25 PM ET: Waller said he supports a 25-bp increase at the next meeting, but wouldn't provide an outlook beyond the Feb. 1 meeting. If "inflation pops back up," the Fed will have to raise rates still higher. The rate path will depend on the data.
While watchful for warning signs, he also hasn't changed his mind that a "soft landing" is possible — "that it was quite possible to make progress on inflation without seriously damaging the labor market. So far, we have managed to do so, and I remain optimistic that this progress can continue."
Earlier, Philadelphia Fed President Patrick Harker said he expects 25-bp rate hikes would be appropriate going forward and would expect a "few more" rate hikes.