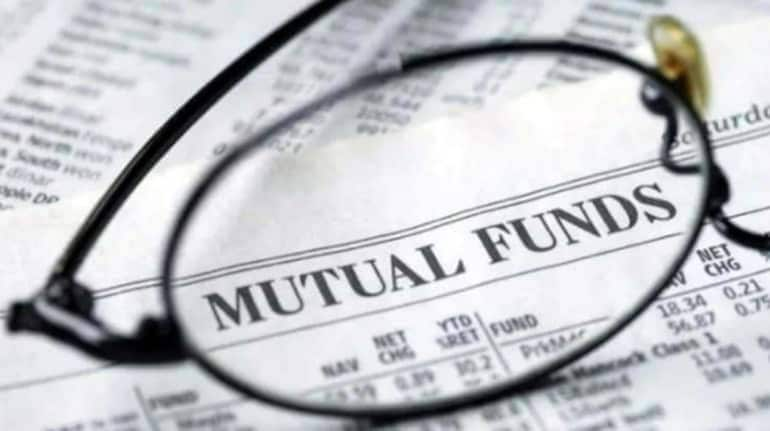 An analysis of profit & loss data, shared by CRISIL, shows that 25 of the 42 fund houses made profits in Financial Year (FY) 2021-22, down from 28 a year earlier.
The Indian mutual fund industry has grown significantly in the last few years with its average assets under management (AAUM) growing over 74% since the March quarter of 2018 to Rs 40.26 trillion in the October-December 2022 period.
But, not all fund houses have made profits. An analysis of profit & loss data, shared by CRISIL, shows that 25 of the 42 fund houses made profits in Financial Year (FY) 2021-22, down from 28 a year earlier.
The accounting years followed by Mirae MF and Franklin Templeton MF are different; Mirae follows a January-December financial year, while Franklin Templeton follows an October-September financial year.
IIFCL MF and IL&FS MF, which are infrastructure debt funds, weren't considered for this story.
Also read | Looking back at 2022: The best and the worst sectoral mutual funds
A fund house earns its revenue from fund management expenses, which it earns as part of the total expense ratio (TER) of the schemes, up to a maximum of 2.5 percent of the assets under management. Equity funds typically command a higher TER than debt funds. But it is a fund house's capacity to minimise its costs and maximise its own fund management revenue that can make the difference.
"Fund houses, which have built scale over the years based on their brand image, performance of funds, product suite differentiation, efficient cost management, process governance and their distribution network, have been able to generate profits over the years."
Here are key findings of the fund houses' profit and assets data from the last five years.
Top fund houses posting consistent profits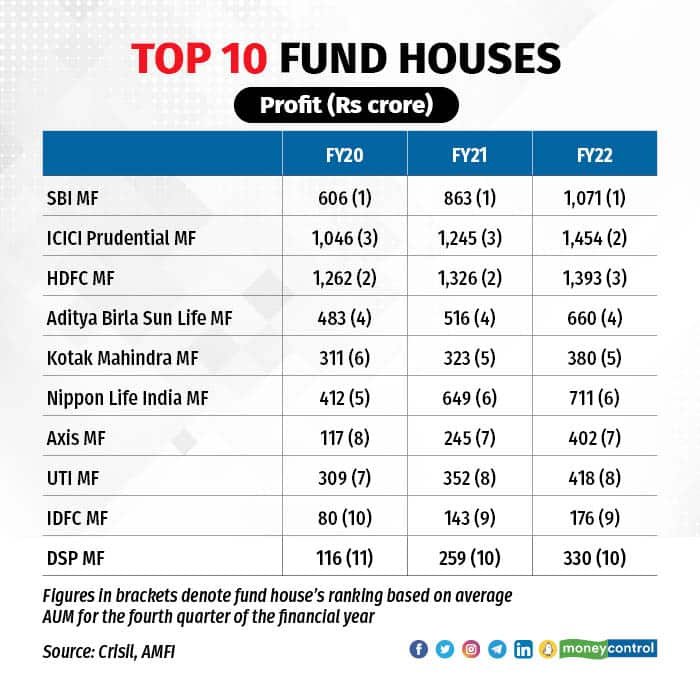 The biggest 12 fund houses, in terms of AUM, including HDFC MF, SBI MF and ICICI Prudential MF, have not posted losses in the last five financial years, starting FY18.
Meanwhile, data also shows that the top seven fund houses, including Aditya Birla Sun Life MF, Kotak Mahindra MF, Nippon Life India MF and Axis MF, have seen a consistent rise in profits.
Among the fund houses, ICICI Prudential MF posted the highest yearly profit of Rs 1,454.09 crore in the last financial year, closely followed by HDFC MF at Rs 1,393.13 crore and SBI MF at Rs 1,070.64 crore.
Also read | Does size of mutual fund schemes matter?
Big and established fund houses tend to have an edge over their smaller counterparts as they are well-known and have larger presence.
"The way in which investors are giving money is completely driven by trend-chasing. The market has become very myopic, very short-term oriented. Gone are the days when you could tell a philosophy and sell a product or gather assets. You need performance today; if performance is there, people respect the philosophy," said Shyam Sekhar, chief ideator at ithought Advisory.
Foreign AMCs struggle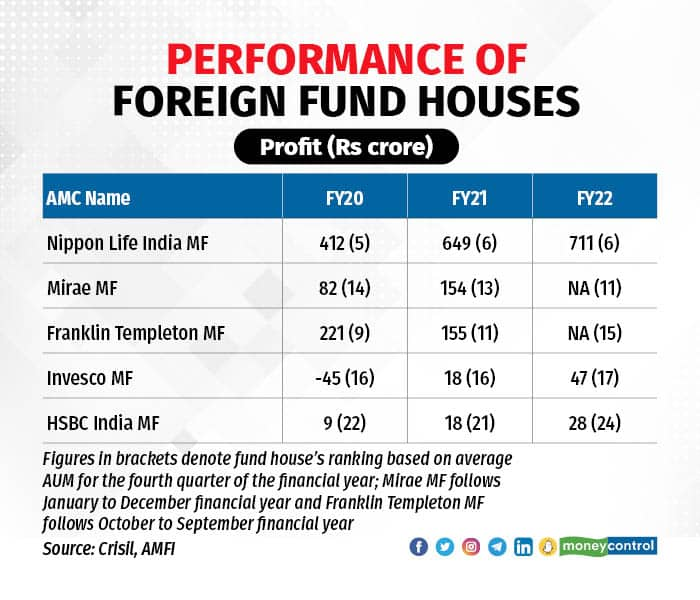 Many foreign fund houses have exited India over the years. Experts attribute India's tougher regulatory environment compared with overseas markets as one of the reasons. Further, some foreign AMCs, they say, tried to transplant their learnings from Western markets into India, which did not work.
Data shows that foreign AMCs in India have struggled to get new funds into their schemes.
After losing assets, Franklin Templeton MF has fallen down in the AUM pecking order. The fund house was ranked 15th in terms of AUM in the last financial year compared with eighth in FY18.
Also read | Franklin Templeton is here to stay in India, we are hiring and getting ready to launch new funds: Sanjay Sapre
Consequently, the AMC has seen a continuous fall in profit from Rs 533.96 crore in FY18 to Rs 154.96 crore in FY21.
In April 2020, Franklin Templeton India had to wind up six of its debt funds because it couldn't sell most of the underlying lower-rated securities.
Also read | The inside story of what led to the mess at Franklin Templeton
HSBC Mutual Fund, which saw its AAUM ranging between Rs 10,000 crore and Rs 12,000 crore over the last five years, acquired its bigger rival L&T Mutual Fund in 2021.
Invesco Mutual Fund, meanwhile, has posted profits in the last two years, after reporting losses in the previous three financial years. In the AUM rankings, the fund house has ranged between the 15th and 17th spot over the past few years.
"Given that the majority of the foreign fund firms had operations in many other countries, they would compare their India activities to those of their other operations to see whether they could sustain their operations in India," said Himanshu Srivastava, Associate Director-Manager Research, Morningstar India. "If they don't see enough merit and growth prospects, they choose to move out. As a market, India is relatively tough, and the penetration of mutual funds is still relatively low. So, the path to profit tends to be a bit longer."
Also read | Direct plans of mutual funds turn 10. What worked and what didn't
However, Mirae Mutual Fund and Nippon Mutual Fund have been outliers, and the only foreign fund houses that have consistently made profits. Both these fund houses have seen a rise in profits as well as assets under management. It should be noted here that Nippon Life Insurance Company entered the Indian MF industry by acquiring the erstwhile Reliance Capital MF in 2019.
Navi MF's rising losses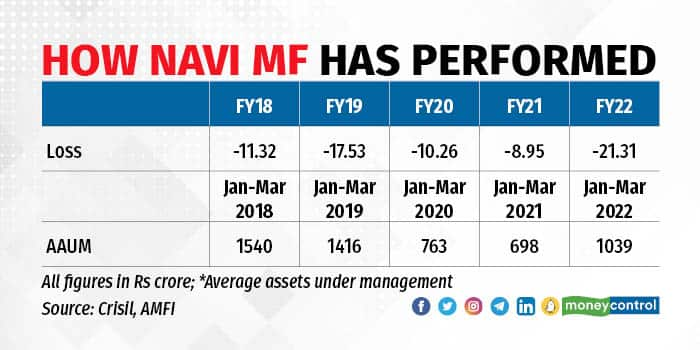 Navi Mutual Fund, owned by Flipkart co-founder Sachin Bansal, has one of the lowest expense ratios in the Indian mutual fund industry. The Navi Nifty 50 Index fund was launched last year with an expense ratio of 0.06%.
However, ultra-low cost on its marque funds (the fund house has consciously chosen to focus on passive funds) also slows down the AMC's journey to profitability.
While the fund's AUM increased from Rs 1,540 crore in the January-March 2018 quarter to Rs 2,184 crore at the end of the December quarter, its ranking in terms of AUM had slipped from 32 to 35 at the end of the March 2022 quarter.
Also read | SEBI mulls opening mutual fund 'sponsor' door to private equity funds
NAVI MF's losses, in the wake of its ultra-low-cost exchange-traded funds (ETFs), become significant when seen in the context of a recent Securities and Exchange Board of India (SEBI) order against DSP MF.
In December 2022, SEBI penalised DSP MF for absorbing expense ratios of one of its schemes. The regulator had imposed penalties on DSP Investment Managers (the asset management company of DSP Mutual Fund) and its Trustee company (DSP Trustee Co) in a case pertaining to the DSP Nifty 50 Exchange Traded Fund (ETF), for absorbing the expense ratio in excess of 0.09 percent. DSP MF had justified this saying a higher expense ratio in ETFs makes it uncompetitive.
"If the performance is good, no one bothers about the expense ratio; if the performance is bad, even if you have the lowest expense ratio, you're not going to gather money. The Indian mutual fund industry is heavily oriented towards performance," said Sekhar.
Niche fund houses can make money, too
But small can also be beautiful. And money-making as well.
PPFAS Asset Management Co has seen its profits grow over the years, despite having fewer schemes than most of its peers. Investors have rewarded the scheme for its performance as its assets have grown 31 times in the last five years. Similarly, the fund house has jumped 15 spots during this period to become the 20th biggest AMC in India.
PPFAS Asset Management's Parag Parikh Flexi Cap Fund has been among the top performing schemes in the category over the past three- and five-year periods. The fund house has a total AUM of Rs 31,332 crore, of which Rs 28,248 crore is under its flexi-cap scheme.
Also read | Check out Moneycontrol's curated list of 30 investment-worthy mutual fund schemes
The fund house has avoided launching a slew of schemes, unlike most other fund houses. "We look at ourselves as asset managers and not asset gatherers."
"…we did not spend much on advertising and marketing, we even kept one commission for all our partners. I believe keeping costs low, strong honest communication and building a decent track record have helped us stay profitable from year one," said Neil Parag Parikh, chairman and CEO, PPFAS MF. "We knew we had to build a track record and looked at the first five years as a startup phase. We concentrated on running a lean ship by keeping our expenses under control and forming a strong foundation of processes."
Another fund house, Quant MF, which uses algorithms and data-driven strategies to make investment decisions, has made big strides during this period.
The total AUM at the fund has jumped 65 times in the last five financial years to Rs 15,013 crore. Notably, the AMC's schemes have featured in the top performing list for the past three years.
For example, the fund house's small-cap, multi-asset, mid-cap and infrastructure funds have been top performers in their respective categories.
Consistent losses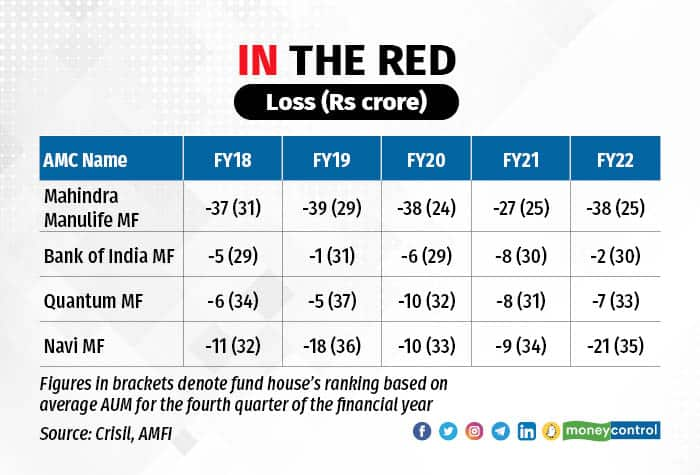 Mahindra Manulife MF, Bank of India MF, Quantum MF and Navi MF are the fund houses that have been posting losses for the last five financial years, per CRISIL data.
Among the fund houses, Mahindra Manulife MF posted the biggest loss of Rs 38.06 crore, during the last financial year.
"Cost or lower TER is not necessarily the silver bullet that you are looking for to grow. Distribution reach, digital reach and performance — these are some of the things that will help you break that bottom five or bottom 10 label and move up the ladder," said Amol Joshi, Founder, PlanRupee Investment Services.
"For smaller fund houses, which have relatively fewer assets, it is challenging to post profits during the initial phase," said Morningstar India's Srivastava. "However, if they build a strong team, robust investment process and products that could add value to the investor portfolio and deliver performance consistently, they may start attracting investors."