Shares of Shopify Inc. shot higher Monday, after Deutsche Bank boosted its rating and price target on the e-commerce software company, saying the narrative has flipped to one of customer migration accelerating from slowing.
The upgrade comes just days after a bullish technical pattern appeared in the stock's chart.
Analyst Bhavin Shah said conversations he's had with various Shopify
SHOP,
+7.16%
agencies and partners suggest adoption of the company's Shopify Plus offering for businesses should accelerate in 2023, which should allow the company to outpace growth in the overall U.S. e-commerce market.
"Many leading brands are now actively looking to migrate or are in the process of migrating over from legacy/competing solutions and we note this is in sharp contrast to our conversations over the last 12 months which consistently highlighted the pace of migrations slowing," Shah wrote in a note to clients.
Shah upgraded Shopify to buy from hold, and raised his stock-price target to $50 from $40. His new target is 21.5% above the average target of the 45 analysts surveyed by FactSet of $41.14.
The stock jumped 6.8% in midday trading Monday. The stock traded as high as $43.48 intraday, which was above the Dec. 1 close of $43.40, which at the time was the highest close since May 4, 2022.
Investors may get a peak into 2023 migration trends when Shopify reports fourth-quarter results, which are scheduled to be released around Feb. 15, according to FactSet.
Shah's upgrade follows the appearance on Jan. 18 of a bullish technical pattern known as a "golden cross" in Shopify's stock chart, for the first time in four years.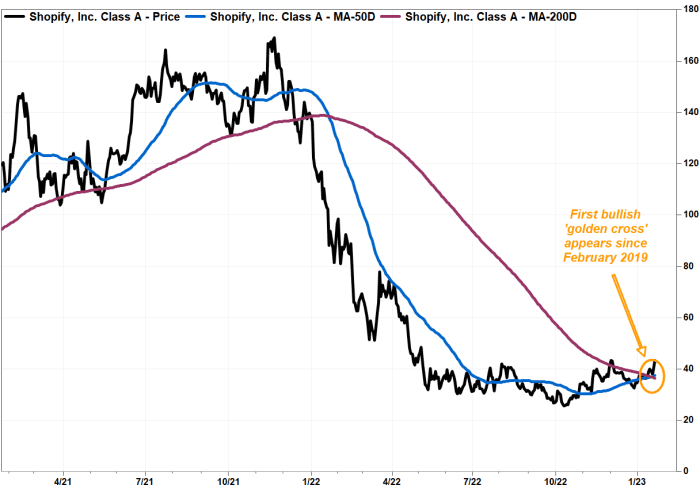 A golden cross is when the 50-day moving average (DMA), used on Wall Street as a short-term trend tracker, crosses above the 200-DMA, which is seen as a dividing line between longer-term uptrends and downtrends. Many chart watchers feel the golden cross marks the spot a shorter-term bounce graduates to a longer-term uptrend. Read more about golden cross patterns.
The stock's last golden cross appeared on Feb. 5, 2019, when it closed at $17.35. It rocketed 408% until a "death cross," which is when the 50-DMA crosses below the 200-DMA, appeared on Jan. 21, 2022.
Shopify's stock has run up 45.3% over the past three months, but has still tumbled 51.0% over the past 12 months. In comparison, the S&P 500 index
SPX,
+1.45%
has gained 7.3% the past three months and slipped 8.5% the past year.