Equities push higher on hopes for a Fed pause, again!
Earnings season is also expected to keep bulls happy.
Momentum money may add to the rally if S&P 500 breaks 4,100.
Another day in 2023 and another rally. So far equities are positioning for a Goldilocks scenario of lower Fed rates and the economy avoiding the worst of a recession. Markets followed up the strong end to last week with another solid performance on Monday as the NASDAQ again closed over 2% higher and all indices closed in the green.
S&P 500 (SPX) news
The move is being put down to an article by Fed whisperer Nick Timaros in the WSJ saying a Federal Reserve move to 25 bps was likely. In reality, the money markets have had this nailed down for some time. The reason for the rally was money sitting on the sidelines joining the rally and hoping for a strong earnings season. Employment holding up means less likelihood of a recession, and fund managers are increasingly putting capital to work. CTAs are on the sidelines, but any breach of 4,100 could see them join and push the trend even higher. Earnings season really gets deep this week, so that will stall any rally today with Microsoft after the close. 
S&P 500 (SPX) forecast
Double top at 4,100 is the key resistance. Still in heavy traffic until we clear that, so no real direction. Support at 3,892 holds this rally, and breaking below 3,800 could lead to a capitulation to lows at 3,500 and under.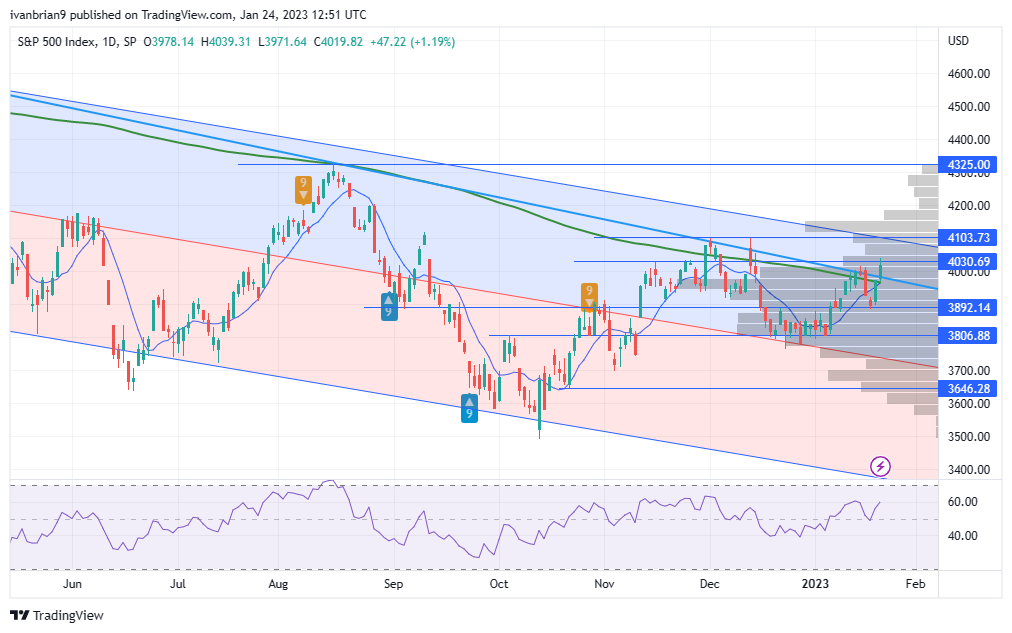 SPX daily chart