Investors are sizing up CPI data that has, as expected, started to cool off and to many, hopefully steers the Fed towards a less aggressive path on interest rate hikes. That could put the S&P 500
SPX,
+0.22%
on track to get to the psychological level of 4,000 level later.
There's a lot of inflation focus in our call of the day from asset manager and exchange-traded fund provider Wisdom Tree, whose commodities expert offers up more reasons to put money in one of 2022's best-performing assets.
"While inflation has been a key concern for investors over the past 2 years, and will continue to be an important consideration for the coming year, we believe that there are more reasons to consider allocations to commodities than just inflation," Nitesh Shah, head of commodities and macroeconomic research, told clients in a note on Thursday.
Firstly, he lays out how commodities remain one the best inflation hedges around, via long-term historical data that shows them as one of the most inflation-sensitive asset classes.
He divides inflation into "expected" using the T-Bill interest rate as a proxy, and "unexpected inflation" via the realized inflation rate minus the T-Bill rate. When it comes to the latter, of which we've definitely seen over the last two years, very few assets have risen like commodities, says Shah, providing the below chart: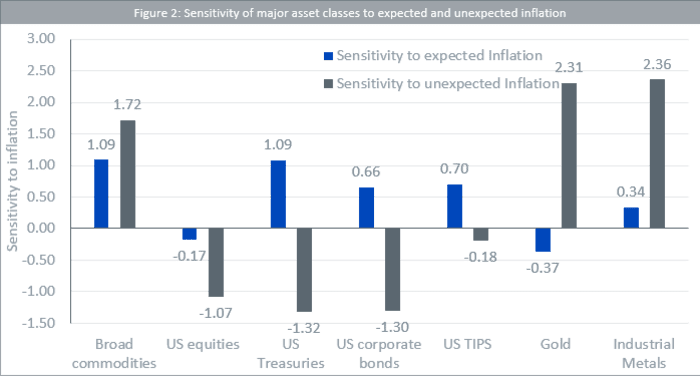 And as broad commodities also do well against expected inflation, the asset class could remain an "important hedging instruments," he says.
What about the next business cycle? Shah sees inflation remaining stubbornly high, at least above 3.5%, keeping the world in a high inflation/low-growth phase for longer.
"We stress that this is not bad for commodities. In fact, with the U.S. dollar no longer appreciating, broad commodities and gold
GC00,
+0.73%
have one headwind restored. With U.S. bond yields appearing to have peaked, gold also has another headwind removed," writes Shah.
Read: Gold reaches 8-month high on Wednesday, 'golden cross' ahead say some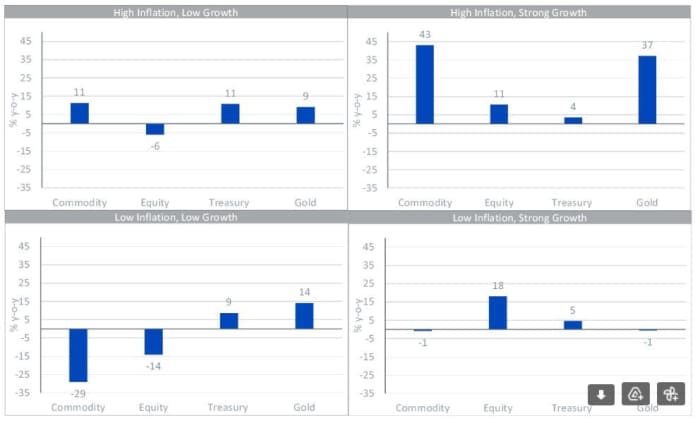 As for what makes it more than just an inflation hedge, Shah points to the low correlation between commodities and most other assets, making it a useful diversifier.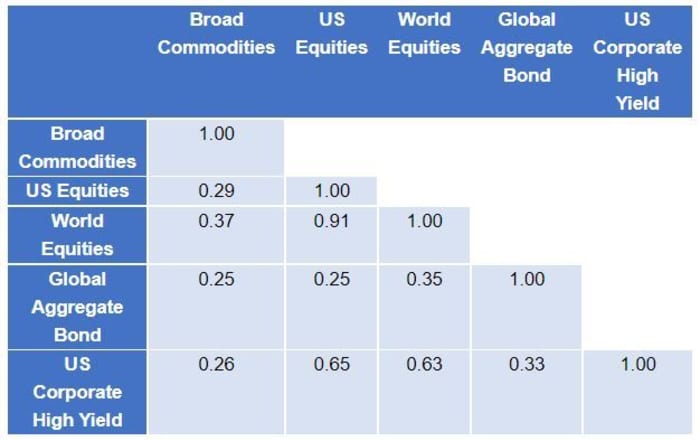 And those low correlations have even held in times of crisis, such as when U.S. equities have dropped more than 5%, says Shah.
"On average, in all the months since the 1960s where U.S. equities have lost more than 5%, commodities have lost 0.65%. In all the months where U.S. equities gained more than 5%, commodities gained 1.13%," he notes,.
"So, while commodities are cyclical (that is, they tend to lose and gain broadly at the same time as equities), the amplitude of such gains is significantly more muted. So, any investors fearing further downside to equities, could hedge with commodity exposure," he said.
Lastly, commodities are the place to be ahead of big changes that he sees coming as last year's energy crisis will speed up Europe's transition to renewable sources, he says.
"We believe that that will be metal demand positive. An electrification of energy production (that comes with a move to renewables instead of combusting hydrocarbons) will require more distribution and transmission cables, more energy infrastructure and more batteries," says Shah.
And with most countries well behind on climate change targets, an acceleration of decarbonizing technology is also likely. Plus an underinvestment in traditional energy sources, on which the world still very much depends, has left tight oil and gas markets. "Commodities provide the essential materials to manage this transition and are likely to benefit," says Shah.
The markets
Stocks
DJIA,
+0.48%
COMP,
+0.10%
have kicked off trading slightly higher after that CPI data, with bond yields
TMUBMUSD10Y,
3.526%
TMUBMUSD02Y,
4.178%
pulling back, the dollar
DXY,
-0.44%
sharply lower, and oil
CL.1,
+1.05%
and gold prices
GC00,
+0.73%
higher.
For more market updates plus actionable trade ideas for stocks, options and crypto, subscribe to MarketDiem by Investor's Business Daily.
The buzz
December CPI fell 0.1% as forecast and marked the first decline since May 2020. Year-over-year inflation slowed a sixth straight month to 6.5% from 7.1%, also meeting expectations.
Weekly jobless claims rose 205,000, slightly below expectations with the federal budget still to come for later. Philadelphia Fed President Patrick Harker has said he backs a slower pace of interest rate hikes to 25 basis points in future Fed meetings, with remarks from St. Louis Fed President James Bullard and Richmond Fed President Tom Barkin still ahead.
Elsewhere, fresh data showed China inflation picking up, with CPI coming in at1.8% in December from 1.6%. Pork prices slowed to a 22% rise from 34% in November.
Contract chip maker Taiwan Semiconductor Manufacturing
2330,
+0.41%
TSM,
+5.64%,
warned that weak economies and inventory adjustments will hit revenue and margins ahead. Shares are moving higher. The company also reported record results.
Shares of Infosys
INFY,
+1.13%
are rising after the India-based digital services and consulting company reported forecast-beating revenue and profit that met expectations.
Walt Disney
DIS,
+3.39%
board of directors said it has elected independent director Mark Parker, a seven-year member of Disney's board and executive chairman of Nike
NKE,
-0.63%,
as chairman.
We're one day away from the kickoff of fourth-quarter earnings from big banks like JP Morgan
JPM,
+0.30%,
Wells Fargo
WFC,
+1.03%,
Citigroup
C,
+0.10%
and Bank of America
BAC,
+1.21%.
Best of the web
Prosecutors took down a group of phony pastors in Baltimore and Washington, D.C. who targeted immigrants in $28 million Ponzi scheme
JPMorgan Chase is suing the 30-year-old founder of a buzzy fintech startup it bought, saying it was sold a lie involving millions of fake customers.
Russia has replaced its commander for the war in Ukraine, pushing out Gen. Sergei Surovikin after only three months on the job.
The chart
Electric-car food for thought from @BrianGitt: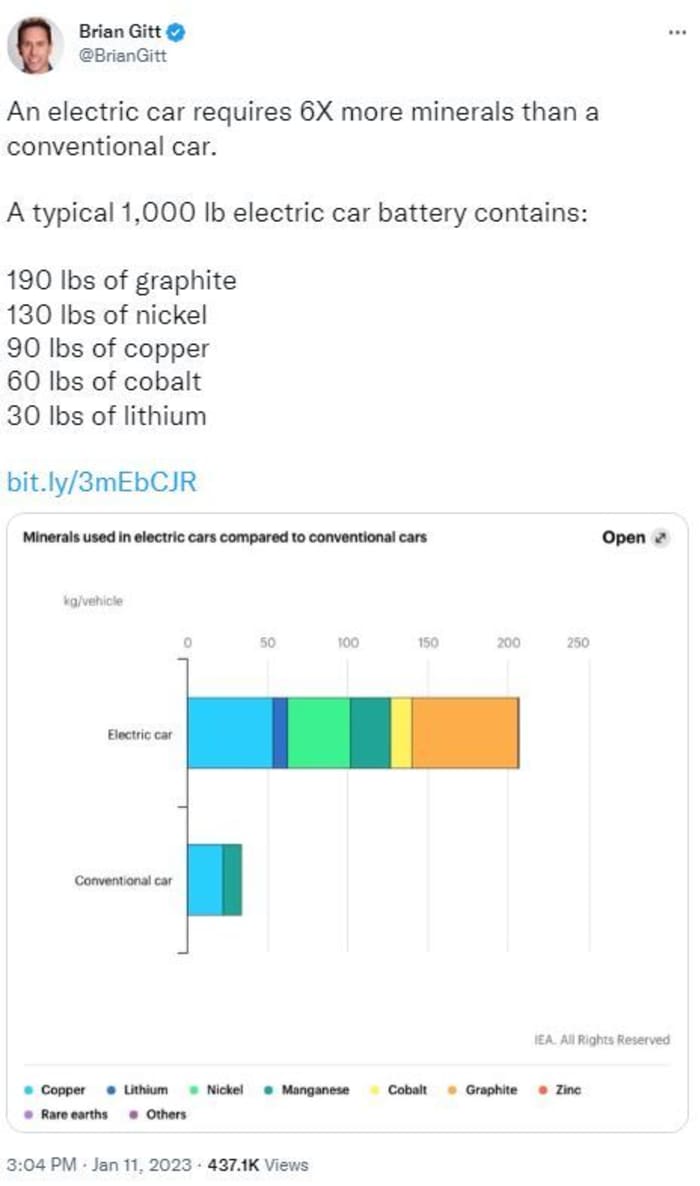 The tickers
These were the top-searched tickers on MarketWatch as of 6 a.m. Eastern:
Ticker
Security name
BBBY,
+16.76%
Bed Bath & Beyond
TSLA,
-2.71%
Tesla
GME,
+0.26%
GameStop
AMC,
+1.12%
AMC Entertainment Holdings
MULN,
-1.80%
Mullen Automotive
NIO,
-1.20%
NIO
TSM,
+5.64%
Taiwan Semicondutor Manufacturing
APE,
+6.98%
AMC Entertainment Holdings preferred shares
AAPL,
-0.32%
Apple
AMZN,
-0.00%
Amazon.com
Random reads
Playing around with gambling app over Christmas, man turns $1.70 into $6.5 million.
Tributes pouring out for legendary guitarist Jeff Beck, who died 78 of bacterial meningitis.
Congrats to the "baby boy" born at Chester Zoo — only the world's rarest chimpanzee
Need to Know starts early and is updated until the opening bell, but sign up here to get it delivered once to your email box. The emailed version will be sent out at about 7:30 a.m. Eastern.
Listen to the Best New Ideas in Money podcast with MarketWatch reporter Charles Passy and economist Stephanie Kelton.