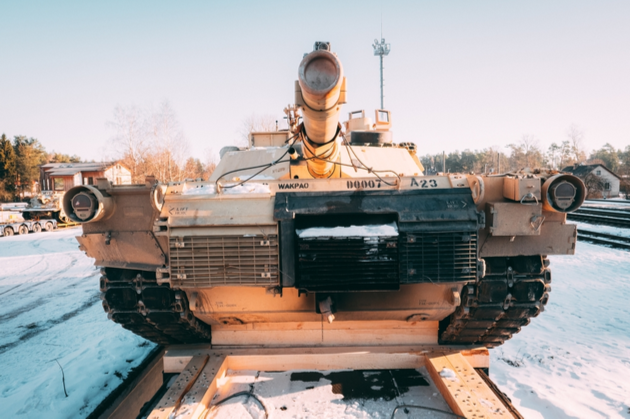 As the war in Ukraine approaches the one-year mark, there is no end in sight to the fighting. Hoping to boost its success on the battlefield, Kyiv has been pressing the West for months to provide its most modern tanks as both sides dig in for the long haul. The U.S. has been reluctant to fulfill the request – citing fuel consumption, training and maintenance – and supplying powerful direct offensive weapons in the conflict appeared to be a red line… until now.
Meet the M1 Abrams: Looking to break a diplomatic logjam with Germany, the Biden administration is set to provide several dozen of its main battle tanks to Ukraine in a major policy reversal. Berlin had said it would only send their domestically made Leopard 2 tanks if the U.S. sent the Abrams first, while the U.K. and Poland piled on the pressure by announcing plans for their own tank deliveries. While the latest decision will heal the divisions, getting the tanks over to Ukraine could still take months, or even a year. Officials have said the tanks would be supplied under an upcoming Ukraine Security Assistance Initiative, meaning the package wouldn't result in another drawdown of U.S. stock, but would rather come from a new contract or a refurbishment of Abrams tanks from another country. See all the U.S. equipment committed to Ukraine and their replacement contract status.
The M1 Abrams has been in service since the 1980s, and is manufactured by General Dynamics (GD), which is scheduled to report earnings before the bell this morning (here is a preview as a possible cut to defense spending looms). Ahead of the Q4 results, SA contributor Christopher Robb touts the company's strong backlog and management team, as well as future defense revenue that's from "sacred cow" projects. For those looking for a well-paying dividend aristocrat, investors might also turn to General Dynamics, which has raised its payout every year for the last quarter-century.
Russian response: "Deliveries of offensive weapons to the Kyiv regime will lead to a global catastrophe," said Vyacheslav Volodin, speaker of the Russian Duma lower house of parliament. "If Washington and NATO countries supply weapons that will be used to strike civilian cities and attempt to seize our territories, as they threaten, this will lead to retaliatory measures using more powerful weapons. Arguments that the nuclear powers have not previously used weapons of mass destruction in local conflicts are untenable. Because these states did not face a situation where there was a threat to the security of their citizens and the territorial integrity of the country." (27 comments)
At the beginning of 2022, legendary fund manager Jeremy Grantham, whose resume includes predictions of Japan's asset price bubble in the 1980s, and the U.S. market crashes in 2000 and 2007, explained that we are in the fourth superbubble of the last hundred years. Since then, U.S. stocks and bonds have lost $10T and $5T, respectively, in addition to an unexpectedly large loss of $2T in cryptocurrency. Where will things go from here? While the most extreme froth has been wiped off the market, Grantham follows up on his investing thesis in the latest article entitled, After A Timeout, Back To The Meat Grinder! (22 comments)
While initially climbing 5% in after-hours trading Tuesday, Microsoft (MSFT) gave back the gains to end the session 2% lower. The software giant reported fiscal second-quarter earnings that surpassed expectations – as sales of Azure cloud and Office services grew from a year ago – but it was followed by a downbeat outlook and an announcement that new business growth slowed in December. AI is the 'next platform wave' for success, CEO Satya Nadella said on a conference call, before a network outage hit Microsoft Azure, Teams and Outlook worldwide. In other tech news, Google (GOOG, GOOGL) was officially sued by the U.S. Department of Justice over online advertising antitrust violations. (131 comments)
A technical glitch and subsequent halts caused a chaotic open on Wall Street yesterday, in one of the biggest snafus to hit the New York Stock Exchange (ICE) in years. It appears that the NYSE failed to carry out an opening auction for dozens of stocks, meaning there weren't any accurate "Limit Up Limit Down" bands, but read more about that process here. Traders on the beat were scurrying for arbitrage opportunities, with outsized moves taking place for AT&T (T), Exxon (XOM), Uber (UBER), Wells Fargo (WFC) and Walmart (WMT). The SEC – which is considering routing most retail orders through auctions at exchanges – is investigating. (120 comments)
We want your feedback! Send a message to wsbfeedback@seekingalpha.com.