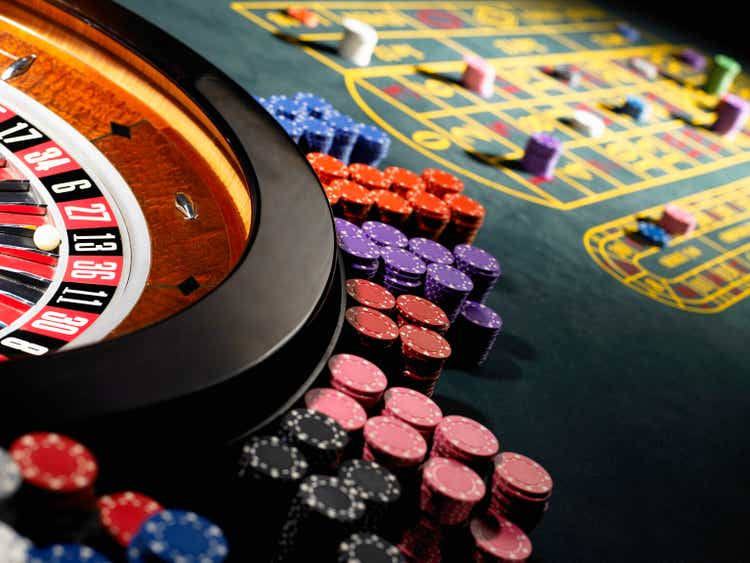 Generally speaking, and there are always exceptions, and of course plenty of nuance, Wall Street is a place full of well-educated, ambitious, hard-charging, and intelligent people. It is widely considered a meritocracy and an industry where the cream rises to the top. That said, I would argue that Wall Street has a big vulnerability, an Achilles heel – it is full of Groupthink – and therefore group thinkers. Take a step back, how has Larry Fink's BlackRock Inc. (BLK) and other institutions been able to dis-intermediate Wall Street's once secret sauce – its stock picking? The reason is ETFs and algorithmic trading.
The narrative that the average actively managed mutual manager can't beat the index, after expenses and fees, was the flamethrower that has fundamentally changed the composition and landscape of how buy side dollars were allocated. Long gone are the days of Peter Lynch or Bill Miller, in his prime, with his Cal Ripken Jr. 'esque' streak of beating the S&P 500 for so many consecutive years. The golden age of stock picking, which meant synthesizing conference calls, combing through 10-Ks and 10-Qs, and meeting with management teams has sadly been largely replaced, swept into the dustbin of history, by the Wizard of Oz behind the ETFs and algo curtains. Billy Joel and Barbra Streisand still have 'New York' and thank god we still have Warren Buffett. Sir Warren is a giant that stands on the shoulders of men when it comes to value investing and compounding capital!
Although the art form of picking stocks has been dormant, broadly speaking, there is still plenty of alpha out there, you just need to turn over a number of rocks and be an actively engaged market participant. As for Netflix (NASDAQ:NFLX), after holding it for nine months, I'm happy to report I was able to capture a respectable 55% return. Arguably, one of the biggest reasons this much alpha was readily available, think in market capitalization dollars, was negative sentiment and groupthink.
Right here on Seeking Alpha, on April 21, 2022, I had an article published at $220 per share, on why I thought Netflix shares were compelling.
And as I always eat my own cooking, meaning I purchased shares of Netflix. As you can see below, I bought 150 shares, at $217.48. And today, nine months later, I sold my Netflix shares, at $336.74. This is a 55% win.
If you don't follow Netflix closely, let me jog readers' memories. Right out of the gate, and I sized this bet up, fairly aggressively, in percentage of the portfolio terms, Netflix traded as low as $163, back in May 2022. Therefore, within a month and mark to market, my Netflix bet was down 25%. Frankly, from late April 2022 through most of July 2022, you could have bought all the Netflix you wanted, sub $200 per share.
At the valuation I bought in at, and recommended it at, right here on Seeking Alpha, we were talking about roughly a $97 billion market capitalization and about a $107 billion enterprise value. As this stock is well covered, in fact, by over thirty sell side analysts, and widely covered throughout the broader financial media, so looking back, it is funny how overly pessimistic most people got on this stock.
If you go back and look, the majority of sell siders were tripping over themselves to slash their price targets on Netflix. We are talking about from the height of the mountain top (price targets of $600 and $700) to the depth of the valley, when sell siders slashed their price targets to the low $200s. A few analysts were briefly under $200! The conventional wisdom was even the great Bill Ackman, who no doubt has an amazing long term record, sized this one up, at $375 per share, and then threw in the towel between $225 and $240. The groupthink was if Ackman was wrong then Netflix was doomed.
Back then, if you got paid a dollar for every time a person made a pedestrian argument about competition, pricing power, slower growth, and a tapped out consumer, you would be retired by now.
Here Is What Wall Street Missed
In a world full of so much noise, it is really hard to make out the signal. Wall Street forgot how incredibly hard it is to build out a global platform that creates exceptional original content for audiences well beyond the U.S. or U.K., in languages outside of English. The ability to create an organization that attracts gifted storytellers, set designers, costume experts, writers, and directors, naturally, leads to the best actors wanting to be involved. When it comes to the stock market and its recency bias, this is an oceanic force that can overwhelm the senses and makes it really difficult to think critically and objectively. Streaming is and always has been about great original content and it's remarkable that Netflix had 222 million global subscribers back then, when its stock price crashed, and now 231 million, as of December 31, 2022. The fact that a very minor subscriber lose led to such a decline in market capitalization shows you the market of 2022 (as well as present day) is geared to overreact, both on the upside and downside.
If you simply looked at Netflix's peer group, Warner Bros. Discovery, Inc. (WBD), Walt Disney Company (DIS), Paramount Global (PARA), and Amazon (AMZN), they all lost money on streaming, in 2022. The exception is Hulu, which is owned by Disney and Comcast NBCUniversal (CMCSA) and is the only company that has been way out in front on the ad supported subscription angle.
The reason I took a contrarian view, on Netflix, was the thought process that a race to the bottom wasn't sustainable. In a rising rate environment, where debt and equity capital are much more expensive, collectively, losing billions of dollars wasn't going to cut it, as shareholders and stakeholders couldn't and wouldn't fund a race to the bottom, under the cover of we're gaining market share or growing our subscriber base.
In a nutshell, back at $218 per share, for this bet to work, I was simply betting:
1) Netflix is and will continue to create compelling original content. And given its global scale, they would get better and become more efficient and improve their yield (so think number of hits for each incremental billion dollars invested on original content).
2) In streaming 2.0, the race to the bottom would end. Collectively losing billions of dollars chasing subscribers with discounted offers and introductory pricing, would become both unfashionable and unsustainable. Therefore, all of the fear monger about Netflix raising prices, by a mere few dollars per month, meant that its peer group would swoop in a take globs of market shares, or so the bearish narrative went, turned out to be misplaced.
Putting It All Together
As Netflix is so widely covered, both on Wall Street and throughout the broader financial press, I will spare you excruciating details of discussing Q4 FY 2022 numbers. When it comes to companies this widely covered, widely owned, and with market capitalization of this size, the market is fully aware of the numbers, how they come in (relative to consensus estimates) and quickly incorporates forward commentary. There is absolutely zero edge spreading numbers, after a company reports its result, as the market is highly efficient at synthesizing new information and discounting updated guidance. The alpha is the ability to selectively and artfully take advantage of Wall Street's groupthink. When this happens, and I'm talking about finer brush strokes here, you get these sweet overreactions and mis-pricing events.
This is very much an art and you really need to do real work on the companies and develop a working thesis to play this game. That said, when it came to Netflix, at least in the low $200s, the mis-pricing seemed so obvious, even to me, a mostly small cap value investor/ speculator that I had to place some of my chips on NFLX, at the Wall Street roulette table. And I'm happy to report, after nine months, I'm walking away a winner, at the Wall Street casino. Lastly, and perhaps far more importantly, I really hope that a number of my regular readers read my original April 21, 2022 piece, published right here on Seeking Alpha, and that they participated in Netflix's recovery and captured a similar win.
And before I forget, the only reason I printed the 55% win here, at $337 per share, was because I've redeployed the capital into some of my other favorites ideas. If it turns out that Netflix simply stumbled last year, and they have now course corrected, it is possible they become uncatchable, in this business marathon. In a streaming 2.0 landscape, the best and most efficient original content creators will win the long game. This is very much a scale business and Netflix's strong foothold in the developing of compelling international content is a key competitive advantage. Longer term investors, the big buy siders, who move these mega caps and technology stocks are making betting calculated bets based on how they think the industry evolves, many years out, and how each of the peer group will perform under various scenarios.
So to be clear, by no means am I pretending to call a top here, I simply have better places to allocate these newly freed up value dollars. Candidly, if I didn't have so many other compelling ideas, and these include four buy and hold ideas, I wouldn't have sold my Netflix shares, at $337, as I do think there is still upside from here.