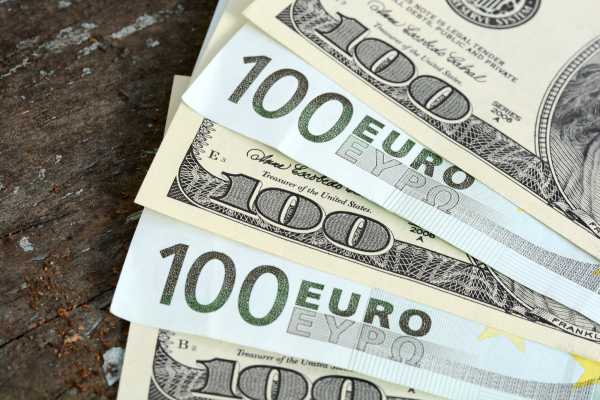 EUR/USD Forecast Video for 13.01.23 by Bruce Powers
After falling for a quick test of Wednesday's low, following the release of the Consumer Price Index (CPI) in the U.S., the EUR/USD turned back up and took off. The first near-term target at the 127.2% Fibonacci extension of the most recent pullback at 1.0805 has already been exceeded. Next, watch for the 161.8% Fibonacci extension to be reached at 108.93. Higher still is a 50% trend retracement at 1.0943.
Progressing Higher Inside Parallel Trend Channel
The EUR/USD is progressing higher within a parallel trend channel with a new bullish signal issued today. Going forward, watch the uptrend line for trend support along with the 34-Day EMA. If price stays above these two lines going forward the trend is intact. In addition, keep an eye on the top channel line as resistance can also be seen there if reached.
Wednesday's low of 1.0727 is near-term support. If price drops below there we can anticipate a possible decline down to at least the uptrend line. There will be other potential support levels to watch if that happens, but a measure cannot be taken until we have a reversal (intraday reversal) off a high.
Bullish Outlook Improves
As the EUR/USD has progressed higher it repeatedly gives new signals further enhancing the bullish outlook. In late-December the 34-Day EMA crossed above the 200-Day EMA, indicating that the uptrend is getting stronger. Then the pair breaks out above the long-term downtrend line and consolidates above it. Price could have dropped below the line, but it didn't. This is bullish price behavior.
Next, last week the EUR/USD pulled back to the support area of the downtrend line, combined with the 34-Day EMA support, before price was rejected to the upside.
Today's momentum shows a price range for the day like the first two up days last week. But we are now five days into an advance with the risk of a retracement increasing. Target price levels mentioned above are where to especially watch for weakness and a reversal.
The 14-Day Relative Strength Index (RSI) shows there is more upside to go as the EUR/USD is not yet overbought, which will occur if it moves above 70. Nevertheless, an overbought condition can last for some time. It is possible that we see symmetry in the current leg up similar to the leg 7.7% eight-day advance in early-November.
For a look at all of today's economic events, check out our economic calendar.