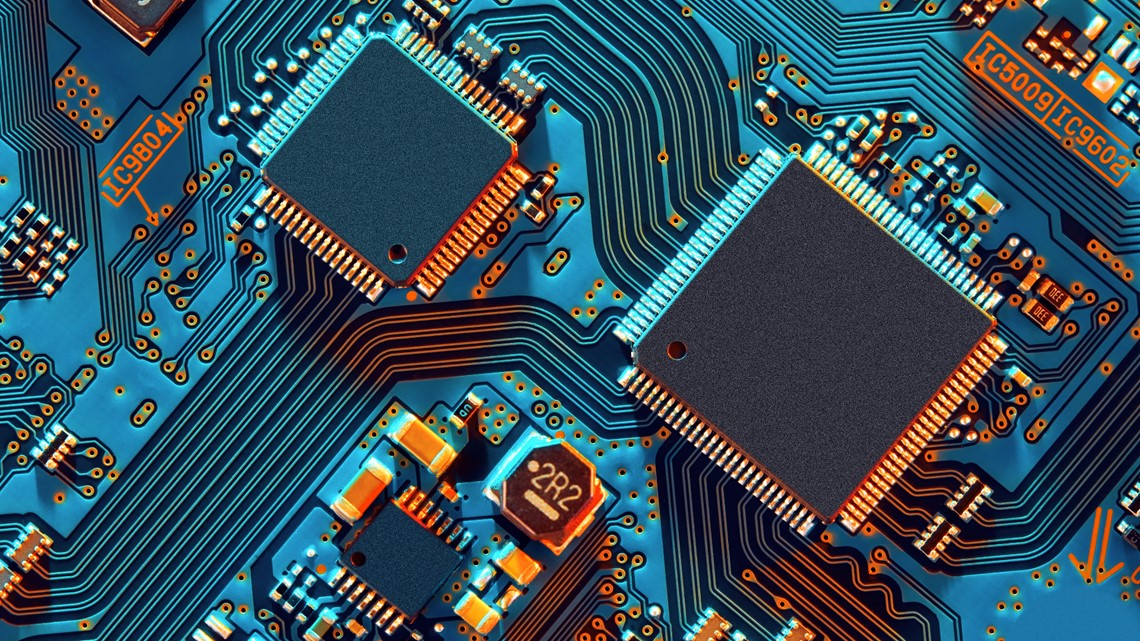 President Biden signed the $280 billion CHIPS Act into law over the summer. Now that the Oregon legislature's back in session, they want a piece of the pie.
SALEM, Ore. — In February, the federal government will begin accepting applications for federal tax money intended to help states attract or expand certain high-tech industries — much like the big Intel expansion that Oregon lost to Ohio in early 2022.
That loss stung Oregon leaders, and with the $280 billion CHIPS Act funding up for grabs in just a matter of weeks, the legislature looks poised to make the necessary changes in order to get back in the ring.
Putting a finer point on the stakes, Intel revealed Friday that it is scrapping plans to build a $700 million mega lab on its Jones Farm Campus in Hillsboro. The company announced the lab last spring, and said it would be used to study new ways to cool data centers.
Intel put out a statement that reads, in part, "As we accelerate our strategy and respond to the current demand environment, we are looking to reduce costs and increase efficiencies through multiple initiatives. This includes exploring more cost-effective real estate options to consider our data center R&D work in Oregon."
While it's difficult to imagine Intel finding cheaper land than what they already own, the tech world is facing some major headwinds right now. Intel announced in October that they would cut $3 billion in costs this year, and the $700 million lab represents a significant chunk.
Regardless of the current challenges, Oregon's political leaders are focused on the future — something that came to the forefront when Intel snubbed the state in favor of a $20 billion investment in Ohio.
Ohio's state government aggressively courted the tech giant, making expansion an easy choice.
'We gotta make it'
Now Oregon has a joint committee in the legislature, one made up of a bipartisan group of lawmakers who all sound eager to encourage tech expansion in the state.
"This committee is important to me because like my colleagues said I'm very interested in bringing back manufacturing to the state of Oregon and making us a state of making things," said Rep. Daniel Nguyen, a Democrat representing Lake Oswego.
"I'm on this committee because I spent my career in manufacturing — I'm an engineer by degree," said Rep. Ed Diehl, a Republican representing towns along the Santiam River. "I want to see America make stuff. We can't just be the people that thinks of it — we gotta make it."
"At this table, next to Sen. Hansel, I represent the largest district — most of Umatilla county, all of Union county, all of Wallowa county and the northern eastern part of the state," said Rep. Bobby Levy, also a Republican. "Oregon needs to be at the forefront of the semiconductor business, and what better time than now for us to get busy and get doing it. And eastern Oregon would love to have it situated on our side of the state."
"My family has been involved — my brother is an electronic engineer, worked at Hewlett Packard, also did a lot of contracting work with Intel," said Sen. Mark Meek, a Democrat representing parts of Clackamas County. "I know how important it is for providing really good family-wage jobs."
"We need to maximize the investment that the federal government is putting out here under the CHIPS Act and so I'm really happy to be here to try to figure out how Oregon can continue to grow its manufacturing," said Sen. Kate Lieber, a Democrat representing much of Beaverton and parts of southwest Portland.
Romancing the chips
It's clear that the tech business has more than a few friends on this legislative committee. Earlier this week, the lawmakers held their first meeting. They listened to a presentation from Duncan Wyse, president of the nonprofit Oregon Business Council. He reported back the findings of the Oregon Semiconductor Competitiveness Task Force, a group quite literally formed to look at this issue.
Wyse had three basic points: Oregon needs to set aside two parcels of land that are at least 500 acres and ready for development by a semiconductor company; the state also needs several smaller plots of land for similar purposes; and the state needs to create incentives to lure these producers, then help shepherd them through the environmental regulations that could hold up development.
As if that's not enough, there's the matter of workers. Adrien Bennings, President of Portland Community College, stressed that institutions like hers will need more funding in order to help train high-tech workers.
"In order for us to stay competitive and set Oregon up for success, we have to build the capacity of community colleges, because we are a key component in this ecosystem of mobility, of opportunity and economic prosperity," Bennings said. "And when we talk about shared prosperity, we each have a shared responsibility — and I think it's important to drive that home, in terms of the advanced manufacturing programs, to help meet the industry's large and growing demand."
And when Wyse mentions "incentives," what precisely does that mean? In a word: money — either cash up front or tax breaks that help persuade companies to expand here in Oregon.
A company called Microchip Technology is headquartered in Arizona, but its largest operation is in Gresham. An executive from the company told lawmakers that they have 900 employees and 300 contractors. They plan to add 250 more employees over the next two years.
"I just want to emphasize the importance of incentives. I'll give you one fact as a consideration, not only to take advantage of the CHIPS Act but to recognize that we have some competitive challenges facing us," said Dan Malinaric, vice president of operations. "And one of the comparisons that we did in looking at building a new (fabrication plant) for Microchip. We compared a new FAB in Arizona with a new FAB in Gresham, the exact same company did the analysis — Mortenson did this for us. And the FAB cost 16% more to build, just the clean room itself, in Oregon compared to Arizona. That's one of the challenges we should look at saying, 'How do we build incentives that help overcome this disadvantage?'"
Malinaric said that Oregon's seismic rules for new buildings and the cost of labor made up the difference that the analysis identified.
Land matters
It's clear that there are some very specific things that Oregon leaders will have to do in order to have the state remain the "Silicon Forest." But the elephant in the room, the thing that will affect more Oregonians, is where this land that the task force identified as essential will come from. It will likely mean that the beloved urban growth boundaries around our cities will either be expanded or otherwise dramatically changed.
"The reality, I hate to say, is people don't wait. The site selectors have told us there's no land. They're not even looking at Oregon," Wyse said. "We know we've lost some big projects — all these are on non-disclosures so I don't actually know them but I've been told by people who do. We have missed opportunities in the past two to three years. We need to end that. Land availability is a very, very big deal. And that's probably going to be a longer-term question that the legislature's going to have to deal with."
Many Oregonians love the urban growth boundary. It's the reason that someone can drive 30 minutes from Portland and be in farm fields or forest, not an endless sea of housing developments. However, it forces cities to become more tightly packed while preserving that open land. So is it sustainable? And would changing things to attract tech manufacturing be worth the sacrifice?
To some extent, this is what the legislative committee is trying to determine. One lawmaker wanted to know where all the homes would be built for the jobs that new tech operations would bring.
"The reason I ask is — we're talking about manufacturing," said Rep. Jeff Helfrich, a Republican representing areas stretching from Gresham to The Dalles. "I sit on the committee for housing and homelessness. And we're gonna have to have a very difficult discussion on what our land use policies are, and are we able to unlock some of those areas within the UGBs and have the ability to put housing there. Because if we don't have housing, we're not gonna be able to attract businesses because there's no place to live or it's not affordable to live."
"The land use system in some ways is one of the crown jewels of our state," said Wyse. "I mean, it has made it a very special place. It is 50 years old. And we need to take a look at it in my opinion. Now I'm not saying it's this committee's task. We hear it on housing, we hear it on industrial land. I think we need to find ways to make it flexible to respond to the ever-changing needs in an ever-growing population."